Dubai NOL Card isn't just a conveyance card but it now becomes a multi-purpose payment card that can be used at more than 2,000 outlets. You can buy groceries, food, drinks, and even you can use your RTA nol card for fuel.
You need to know everything about your Nol cards likewise sorts of cards, benefits, nol card recharge process, how to check the balance of nol card
options and lots of more useful things which can definitely help both the tourists and
residents.
How To Check NOL Card Balance
There are several ways to check the balance on a NOL (Dubai's public transportation smart card) card:
Method 1: NOL Card Balance Check By RTA Website 
Step 1: Online: You can check NOL card balance online by visiting the RTA (Roads and Transport Authority) website.
Step 2: Go to the option Check NOL Card Balance as shown in the picture below.
Step 3: Put 10 digits NOL card number in box, you can find the NOL card number on the back side of your NOL card
Method 2: Check Nol Card Balance By SMS
SMS: You can also check your NOL card balance by sending an SMS to the number 7275 (UAE only) with the text "BAL" followed by your 14-digit card number.
Method 3: Check Nol Card Balance By Visiting NOL Ticketing Office
At a NOL Ticket Office: You can check your card balance at any of the NOL Ticket Offices located at metro stations, bus stations and select retail outlets.
Method 4: Check Nol Card Balance Through NOL Card Vending Machine
At NOL Card vending machines: You can check your card balance at NOL Card vending machines located in metro stations and some bus stations.
Method 5: Check Nol Card Balance By Dubai Public Transport Vehicle
On the Public Transport vehicle: You can check the balance of your NOL card by holding it close to the card reader when boarding or exiting a public transport vehicle. You'll see the balance displayed on the reader.
Keep in mind that there may be a minimum balance requirement to use the card. And also keep in mind that your balance will also be affected by transaction fees and other charges, so it's a good idea to check your balance regularly to ensure that you have enough funds on your card to pay for your trips.
What Is Nol Card?
The Dubai NOL card is a contactless smart card used for payment on the Dubai public transportation system. The card is used to pay for fares on the Dubai Metro, buses, and water buses. The NOL card can also be used for parking payments at Dubai's RTA (Roads and Transport Authority) parking meters, and for payments at some retail locations in the city.
The card is rechargeable and can be topped up with credit at various locations such as metro stations, RTA customer service centers, and select retail outlets. The card is valid for a period of five years and can be renewed after that.
Users can also check their NOL card balance and transaction history online through the RTA website or mobile app. The card is also helpful for tourists, as they can use it to travel on public transportation without having to purchase a separate ticket for each trip.
Read This: The Palm Jumeirah Dubai you Need To Know
Available Types Of NOL Cards
There are several types of NOL cards available in Dubai, each with different features and benefits:
1. Silver NOL Card
Silver NOL card: This card is similar to the Red NOL card, but also offers a 10% discount on fares for the metro and buses. It also includes free parking in some RTA parking lots.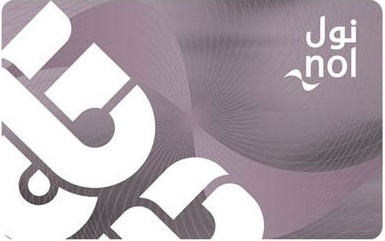 2. Nol Gold Card
Gold NOL card: This card is similar to the Silver NOL card, but also includes free parking in all RTA parking lots. It also includes a 20% discount on fares for the metro and buses.
3. Nol Blue Card
Blue NOL card: This card is specifically for students and can be used for payment on the metro, buses, and water buses. It also includes a 50% discount on fares.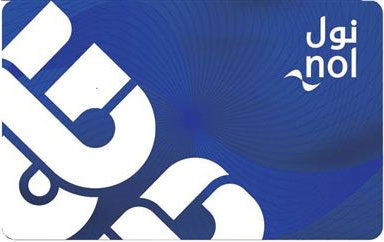 4. Red NOL  Card
Red NOL card: This is the standard NOL card, which can be used for payment on the Dubai Metro, buses, and water buses. It is also valid for parking payments at RTA parking meters.
5. Nol Personalized Card
NOL Personalized card: This card is a personalized version of the standard NOL card, which can be personalized with a photo and name. It can be used for payment on the metro, buses, and water buses and also includes discounts on some tourist attractions and shopping outlets.
You can choose the card which suits your needs and budget.
Benefits of Nol Silver Card:
Silver nol card may be a perfect starter card with an e-purse which will be loaded with up to AED 1000 upon registering your card. Getting this card is simple you can buy it immediately from any ticket oce for only AED 25 that has an AED 19 e-purse value (balance).
Some other benefits of the Nol silver card are:
Nol Card will calculate the trip cost automatically and deducts the cost from your purse balance.
Nol Cards can be used on all kinds of public transport, Etihad Museum, public parks in Dubai, also can be used at more than 2000 shops across Dubai.
You can buy your card immediately from any Metro or Bus Stations on the low coast and use it immediately.
Nol Silver card has come with 5 years validity.
The top-up limit is AED 1000.
Benefits of Nol Gold Card:
Nol Gold card allows you to travel in luxury and luxury, it holds equivalent features because of the silver card,
but it gives you access to gold class seats at Metro and trams for a premium fare. You can get this card from any ticket oce for only AED 25 that includes AED 19 e-purse value.
Other benefits of the Nol Gold card are:
Gold Class cabins/seats.
5 years validity.
Valid on all modes of conveyance and parks including Etihad museum and 2000 shops
across Dubai city.
No extra charges for not traveling in gold class cabins, with gold card, you can travel economy class too.
The top-up limit is AED 500.
Benefits of Blue Nol Card:
Nol blue card may be additionally referred to as a Nol personal card which is a personalized open-end credit with an e-purse that will be loaded with up to AED 5000. This card comes with a special design that has the photo and other details of the customer.
Some other benefits are:
A feature to secure your card balance in case if the card gets lost or stolen.
It gives special fares to students, senior citizens,s and people of determination.
Often used at 2000 shops, Etihad museum, all modes of transport, and public parks in Dubai.
Nol blue card allows online services, SMS, and email notifications.
You can check the history of your card transaction therefore the status of nol card refund.
If you want to reset your nol card pin there have an Option to reset.
AED 5000 is the maximum Top-up limit with 5 years validity.
Benefits of Red Nol Card (Ticket):
Nol red card is perfect for the travelers who travel occasionally which can be bought any time from ticket vending machine the cost of the card is AED 6. Nol Red Ticket is a paper-based ticket. It can be loaded with up to 10 Single Trips.
Some other benefits are:
Can be bought from a ticket vending machine.
The price of this unit is AED 6 including a 4 AED purse balance.
90 days validity.
Allows you to buy the precise trip only.
This is the low-rate ticket that can be used for Dubai Metro, Tram, and buses.
You can use the same ticket for all modes and there's no need to buy another ticket.
Personalized Nol Card:
Nol personalized card is simply for 30 AED with a top-up limit of 1000 AED allows its holder a custom design to identity user nol in a glance. This card is valid and may be used in the least Dubai Transport modes with a validity of 5 years. To apply for a customized nol card, you would like to submit a web request form here.
How You Can Get A NOL Card:
Buying a Nol card in Dubai is extremely easy, let's learn the ways to get a nol card.
Ticket oces at metro stations and some bus stations.
Vending machines
RTA customer care centers
RTA authorized sale agents
Online at RTA website
Nol card recharge can be done through:
Any ticket vending machine
Ticket oces at Metro stations
Grocery shops having Du/Etisalat recharge device
RTA sales agent
RTA customer care centers
Smart Kiosks across UAE
Online
Can't go out to recharge nol? Don't worry and say because of NFC smart services, Now you can using NFC option of your smartphone by just tapping it on your smartphone. The NFC
(near field connectivity) is now able to read & update new NOL cards directly through both android and IOS mobile phones.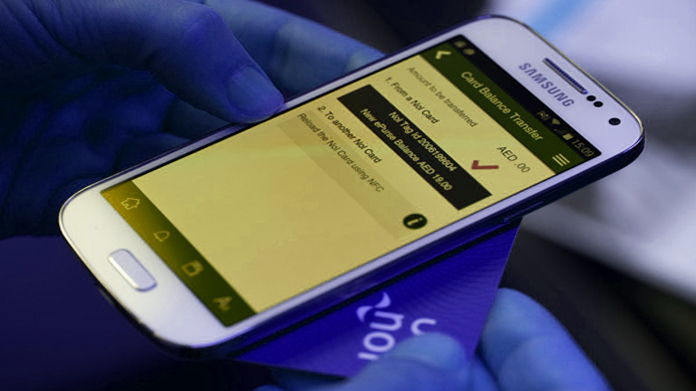 NFC allows you to use your smartphone as a nol card to check-in and check out at the metro, bus, water bus, metro parking. You also have the option to transfer credit of your card to another card, check your nol balance, last transactions through NFC technology. To know more check this link and appearance for NFC in how to use nol card menu.
RTA nol card can be top-up online through the RTA website by adding your credit/debit card. The top-up amount limit for unregistered users is 1000 AED and for registered users is 5000 AED.
How to check Nol Card Balance?
Many people struggle to know their nol balance. Don't worry anymore as you'll now check your RTA nol card balance online by just writing your nol tag ID on the RTA Nol card balance inquiry page.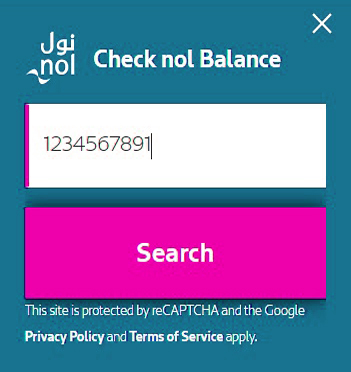 RTA nol card balance check also can be done once you tap in or beat out, the remaining total balance will ash on the ticket machine screen. to check your card purse balance you can use any ticket vending machine or oce all over Dubai metro or Bus stations.
Nol card merchants in Dubai and UAE:
You can use your nol card to buy and buy from quite 2000 shops; we've gathered a number of the popular UAE brands for you. Below is that the list of merchants in Dubai and UAE at which you'll use your nol card.
800 Degrees Piza (Restaurant)
Al Maya Global (Super Market)
Aster (Pharmacy)
All Day (Convenience store)
London Diary (Restaurant)
IMG Theme Park LLC (Entertainment)
Lulu (Supermarket)
Aswaaq (Supermarket)
Burger King (Restaurant)
Carrefour (Supermarket)
Carter's (Restaurant)
Zoom (Convenience store)
Auto Pro (Automotive service)
Tasjeel (Government service)
Enoc (Fuel station)
Paavo's Pizza (Restaurant)
Medicina (Pharmacy)
Mister Baker LLC (Restaurant)
Medcom (Pharmacy)
Med care (Clinic)
Eat & drink cafeteria (Restaurant)
Gloria Jean's Coffee (Restaurant
Cravia (Restaurant)
Circle K (Convenience store)
Also Read This: Check Iqama Expiry Date Through Absher
Frequently Asked Questions:
What is the minimum balance to stay on Nol card?
You must keep a minimum balance of 7.5 AED on your nol card.
How to use Nol Card in Dubai?
You need to tap in (touch the nol card to the sensor area of the cardboard machine) while entering and beat out once you exit through stations, metro trains, trams, and buses.
Can nol card be used outside UAE?
Yes only if you are traveling in RTA public transport through inter-city bus to/from Sharjah, Abu Dhabi etc.
Is nol balance refundable?
Yes, you can get a refund of your nol card balance by paying 2.5% charges of the total e-purse amount.
Is there any discount on Nol Card?
Yes, there is a 50% discount for students, senior citizens, and people of determination. Also, children below 5 years of age can travel free of cost without a card.
Can tourists get nol card?
Visitors & Tourists are allowed to buy nol card at any ticket oce across Dubai metro & bus stations (Some time they can be asked to present their visa or passport copy).
What are the Nol Fares in 2020?
Nol fares can be checked online through this link as the fares may change time by time.
The Dos and Don'ts of Nol Card:
To avoid lines, always check-in when entering and check-out while exiting.
Confirm you maintain a minimum 7.5 AED balance.
For any kind of inquiry, you can call RTA toll-free helpline number 8009090 for transport timings, locations, or lost nol card.
If caught, 200 AED is the one for traveling without a card or without punching the card.
You are not allowed to drink, eat, smoke or litter inside any kind of RTA transport.
For further details regarding RTA nol card including nol student, nol plus card, nol card monthly pass, etc
You can call on RTA toll-free helpline 8009090 or just visit the official websites of RTA and Nol.
https://www.rta.ae/wps/portal/rta/ae/public-transport/Nol-Home
https://www.nolplus.ae/?tenantCd=RTA
You suggested to check always your Nol card balance online or at the time of
entering at the bus door or before entering the bus as if caught without balance, you'll be charged with
+200 AED fine. For travel freely with peace of mind across Dubai &
UAE. must remember nol card recharge options in your mind.
Join Our Facebook Group To Get Direct Help Regarding Visa & immigration Issues.
www.facebook.com/groups/gulfhelp/