ICA Smart Services has launched by the Federal Authority for Identity and Citizenship (ICA) in UAE  through this program ICA provide more convenience and facilities to citizens and UAE residents wishing to return to the UAE. A special category of residence permits also  announced by UAE for peoples from certain countries, provided they have obtained pre-entry approval from the ICA.
You can learn more about some services which are offered by ICA Smart Services, likewise UAE visa validity check and entry clearance application by ICA Smart Services program.
ICA Smart Services
ICA Smart Services provides a central portal to UAE and foreign nationals through which they can access various services related to visa inquiries, permit inquiries, payment of fees and fines and updating of personal information. can.
The system provides the following services to individuals in each category:
Citizens of UAE: Individual citizens of UAE now can apply for citizen services through ICA Smart Services like (passport services, Emirates ID services & family book services,) and some other sponsored services.
Residents of UAE: Individual residents can apply to the Federal Authority for Identity and Citizenship Services, such as Visa, Accommodation and UAE Identity Services, for themselves and their sponsor.
Citizens of GCC: Citizens of GCC countries can now apply for services which related to their sponsorship and also they can avail services of Emirates ID.
Residents of GCC: Residents of GCC can apply for entry visa services in this country for this category and can arrange it after the visa is issued.
Visitors to UAE: Visitors can apply for entry visa services in the country by category and arrange it after the visa is issued.
ICA Smart Services App
Anyone from above category can access these services through the official website of ICA Smart Services or through the mobile applications, which are available on both iOS and Android.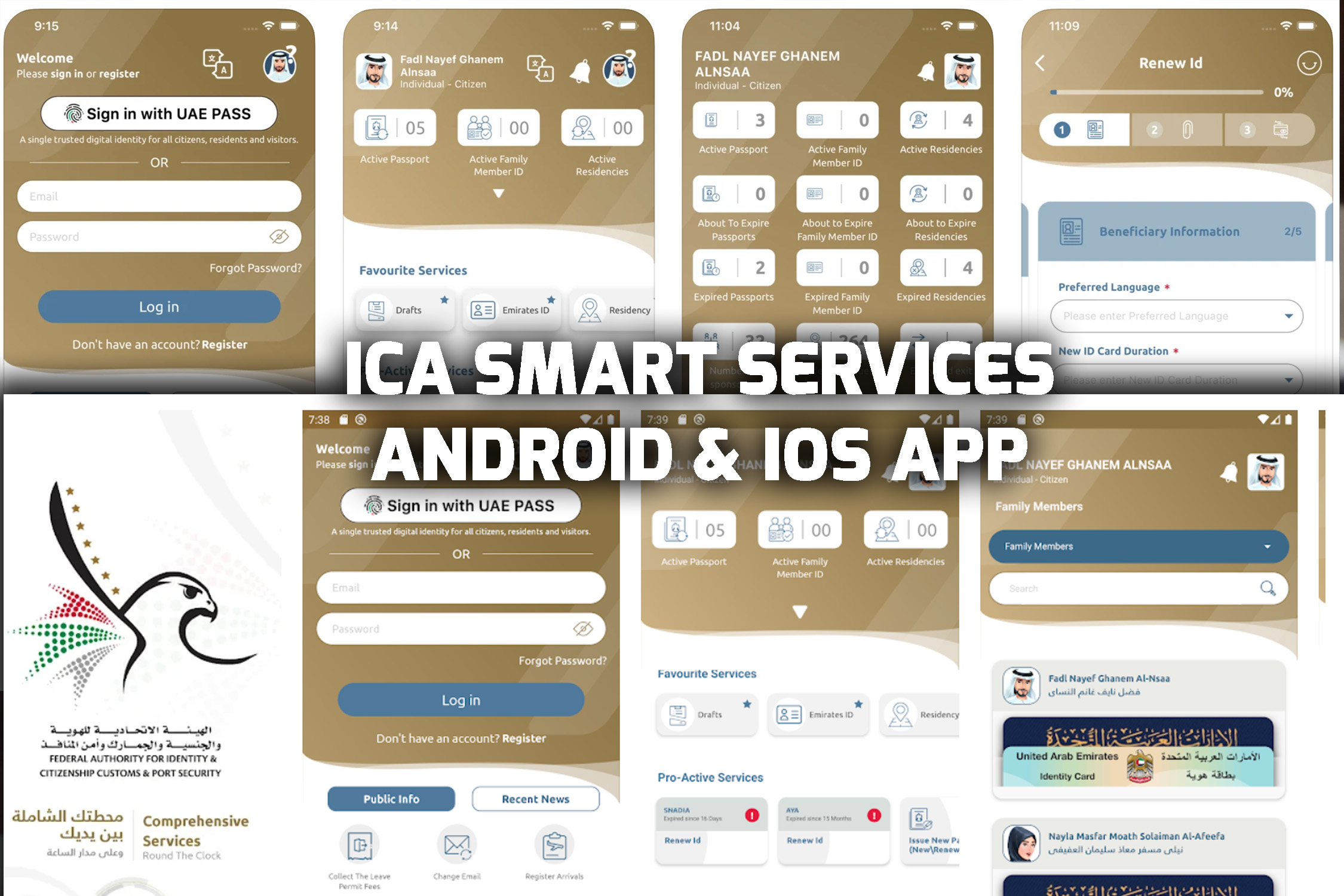 Passengers Must Register For ICA Smart Services.
Residents traveling from Bangladesh, India, Pakistan, Sri Lanka, South Africa and Sudan are required to register through the ICA Smart Travel Service and obtain a QR code before leaving for the UAE.
It will not apply to those travelers who have some other kind of visas, likewise newly issued residence permit or employment visa, short term or long term visas, 10 years UAE Golden Visa, partner or investor visa, Visit visa or on visa on arrival. This will not apply to UAE residence visa holders who are traveling from Ethiopia.
Please also note that tourists do not need ICA approval when traveling to the UAE.
For residents who wish to verify the status and validity of their UAE visa or for those who wish to track the progress of a UAE visa application, use one of the services provided by ICA. Can do
Residents and applicants only need to go to the ICA dashboard and find out the appropriate service and information regarding visa issuance, types and accuracy, or the status of their visa application. Especially for visa applicants, the application number and reference number are required to track their application.
You can also call ICA helpline for any inquiries regarding UAE visa issuance, types and validity of UAE visas, feel free to contact ICA helpline directly on toll free number 600522222.
ICA Smart Services For UAE Residential Entry Permit
While the UAE has eased restrictions on domestic travelers, full-vaccinated visa holders are only available to resident visa holders from Bangladesh, India, Nigeria, Pakistan, Sri Lanka, South Africa, Uganda, Vietnam, Zambia and Ethiopia. In this case, the UAE can return if they have already obtained a visa. – Admission approval from ICA.
You can apply for it by clicking here. Note that Dubai visa holders from these countries must also obtain prior approval through the General Directorate of Residency and Foreign Affairs (GDRFA).
GDRFA Approval Link: GDRFA Approval For UAE Residents Complete Guide
A Complete Process Guide For UAE Residents Re-Entry In UE
If you wish to obtain a UAE resident entry permit, you just need to follow this step-by-step guide.
Step: Visit the ICA website.
You just simply visit the official website of ICA
Step: Fill out the application form.
Enter your Emirates ID number
Step: Fill in your passport details.
On next step, you will need to fill the details of your passport like type and number.
Step: Confirm the details.
Finally, verify that the details are correct and that you will follow all instructions and procedures issued by the health authorities.
Step: Approval Notice
After entering complete details, resident who provide the correct visa documents received the below message immediately: "You meet the requirements to enter the country, and you can proceed with the completion of your travel arrangements. Wants health and well-being. " If you receive above message which we mention, you will be eligible to enter UAE you just simply book your air ticket. The ICA advise for UAE residents the can use this platform to check the authenticity of their travel documents before booking of air ticket.
When You Need to Register for ICA Smart Services?
Its depending on the status of your vaccination, you may need to plan ahead for the following time for your ICA registration.
If you got your full vaccination in the UAE:
Register anytime before the flight.
You do not require to upload your Covid vaccine certificate.
If you got your full vaccination outside the UAE:
Register five days before your flight.
If you do not register on time, your vaccination status cannot be recognized – this means you will not receive a green pass in the Al Hassan app, and you may need to be quarantined.
After you registration, you will get a QR code on your registered email.
If you are a non vaccinated person:
Register anytime before the flight.
When you complete your registration, you will get a QR code through email.
An important announcement come from UAE authorities regarding the approval of certificate of COVID-19 vaccination which issued abroad, this act will enable passengers who got approved vaccines they can easily complete their travel arrangements in Dubai.
Registration of Vaccination Certificates is optional for travelers who wish to enjoy the benefits of a fully vaccinated vaccine approved in the UAE.
Table of Contents
Also Read This: Dubai Metro Timings RTA Offices, RTA Buses And Parking in Dubai