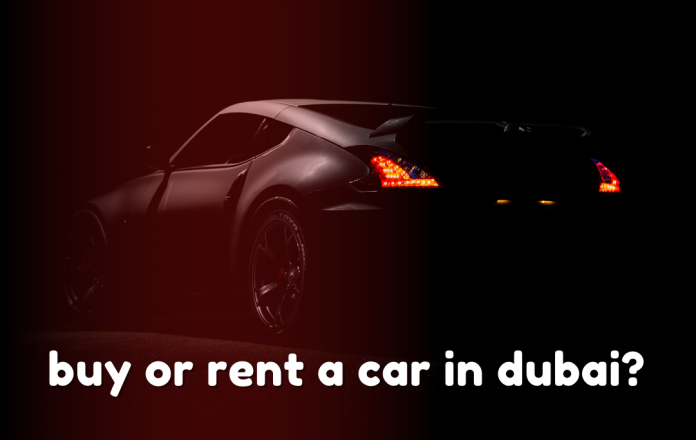 Is it Better to Rent or Buy a Car in Dubai? Whether for business or fun, a trip to Dubai can help you discover opportunities to improve your quality of life. Dubai is a popular destination with amazing sights, activities, and resources.
But it may get hard if you're a visitor and your transit is crowded and confusing. You may think about renting a car and exploring the city alone instead of hiring a designated driver to drive you about.
However, people frequently do not fully investigate the advantages and disadvantages before making such a significant purchase. An automobile purchase constrains a large financial commitment and ongoing maintenance. 
If one does not make enough provisions for such costs, they may quickly find themselves in a debt trap.
However, both approaches have things to take into account. Which is better, buying a car or renting one in Dubai?
In Dubai, Renting a Car is Preferable to Buying One.
As one of the busiest commercial centres, Dubai has the most vehicles cruising its streets daily. But occasionally, both visitors and residents deal with tough situations. It might be intimidating and tough to decide whether to buy a car or to search for "rent a car near me."
Dubai is a popular tourist destination; driving around the city is advised. People frequently buy automobiles if business prospects have made them residents for a long period. 
It is possible to rent or buy a Luxury car within your budget since most Dubai business people prefer to drive Lamborghini cars for rent.
If you were to compare renting a car with buying one, how would you do it?
It's not about the weekend vacation, the midweek city shopping excursion, or the weeklong work travel that determines whether to rent or buy a car. You should concentrate on one-month or longer rentals to contrast automobile renting with buying. 
You should think about the issue from an annual perspective to make the best choice. How frequently and how much will you need to rent for a year? Calculate as accurately as you can, and then compare the results to the cost of annual auto maintenance.
If You Rent a Car
If you will only be in Dubai temporarily, renting a car is the best alternative. Even before you arrive in the city, you may select the make and model of the vehicle.
The main advantage of renting a vehicle is that no additional expenses, such as depreciation losses, and no insurance policies are necessary.

When moving from one area to another, there is no tension associated with selling the automobile. A deposit is not required to be kept.

You may change the car at the rental agency whenever you desire an improved choice, pay the difference, and receive the one you want.

There is freedom and flexibility at reasonable pricing according to your needs and expectations.

You have a large selection of vehicles at your disposal for use.

Anywhere in Dubai

, you get assistance around-the-clock in the event of a breakdown.
If You Buy a Car
Due to the introduction of new automobile models in the nation, the vehicle market is frequently exposed to changes. Most people decide to own a car because they can use it whenever they want and have total control over it.
Since the car came straight from the manufacturer, it is safe to rely on the model and feature quality.

The characteristics of the automobile may be upgraded whenever you want without having to wait a long time.

You can install user-friendly, improved visuals in the car.

According to the owner's needs, the new automobile might be modified.

 Additionally, you might find reasonable discounts on extras like seat coverings.

The additional safety measures reduce the risk of serious accidents in new automobiles. 
What is Better, Renting or Buy a Car in Dubai?
Choosing only one choice as the best one is difficult. However, when viewed from different angles, both seem to be ideal for certain people. Many tourists and business people choosing to hire a Bentley in Dubai are making a great decision from among a variety of vehicles.
There is nothing greater than the other because both are wonderful options selected based on your needs. You may get amazing features in the automobiles on the market by renting or buying one.
Select the option that best meets your needs, whether you want to commute with your family or on your own.
Conclusion
Cost is probably the major factor when deciding between renting and purchasing an automobile. The main costs are upkeep, insurance, automobile payments, and parking fees.
It is also important to consider long-term rental costs and resale values since owning a car has a lower value than renting. The most important non-financial consideration is convenience, which is how having access to a car will affect your everyday life.