Samsung announced a bunch of new devices today they have the Samsung Galaxy S22 the S22 plus and the Samsung Galaxy S22 ultra, I was able to spend a l
Samsung announced a bunch of new devices today they have the Samsung Galaxy S22 the S22 plus and the Samsung Galaxy S22 ultra, I was able to spend a little bit of time with all of them and I even swapped my sim over to the s22 ultra and I thought I'd give some kind of early impressions and thoughts about these devices.
What's In The Box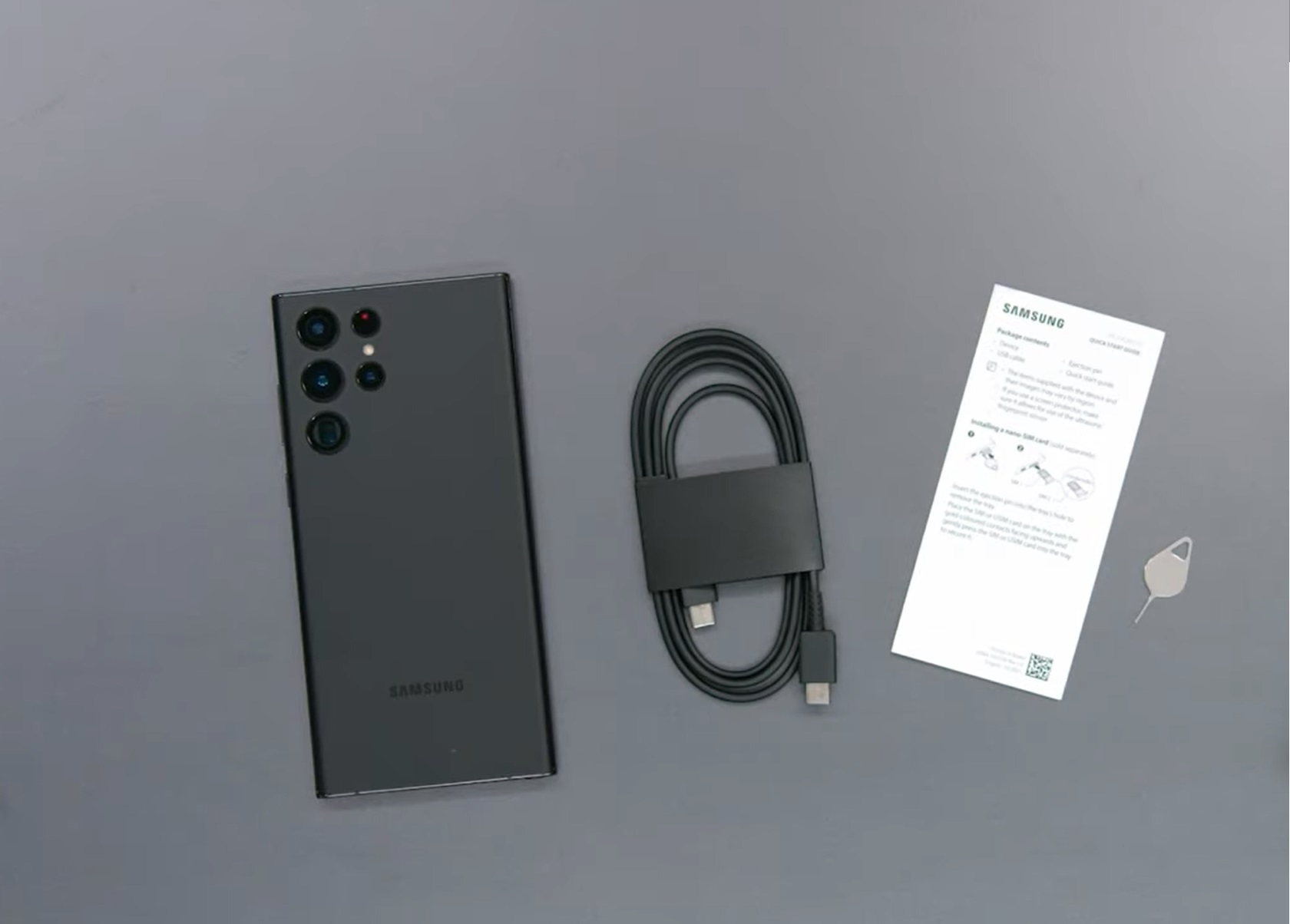 So when I unboxed this thing the package is a little bit smaller this year and inside it's pretty basic you have your phone you have the USB type C charging cable as well as a sim card tool.
Gorilla Corning Glass Victus Plus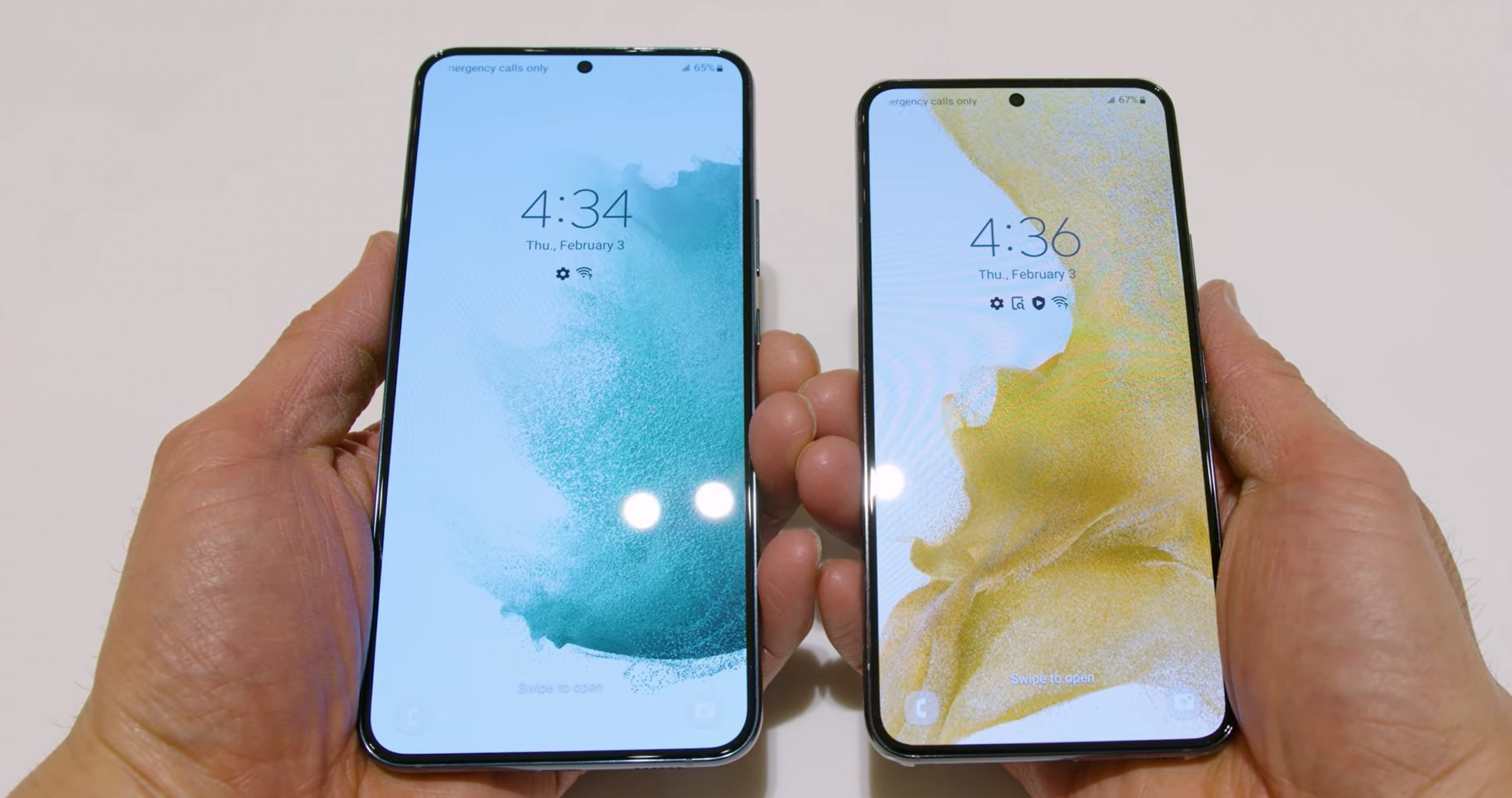 Now the devices this year have a glass back on all three devices so the Samsung Galaxy S22 the Samsung Galaxy S22 plus as well as Samsung Galaxy S22 ultra all have gorilla glass Victus plus and it's unlike last year's lineup that had plastic for the regular Samsung Galaxy  S21 and I think they did it to kind of differentiate between the premiumnes of the devices but this year it's glass all round and on the S22 and S22 plus it's got a flat front so no curvature at all.
Galaxy S22, S22 Plus & S22 Ultra Design

On the back of those two devices you have a tweaked or updated version of that iconic camera hump they have it's this design that's really grown on me over the past year and it looks a little bit cleaner and more modern this year now.
Galaxy S22 Ultra Design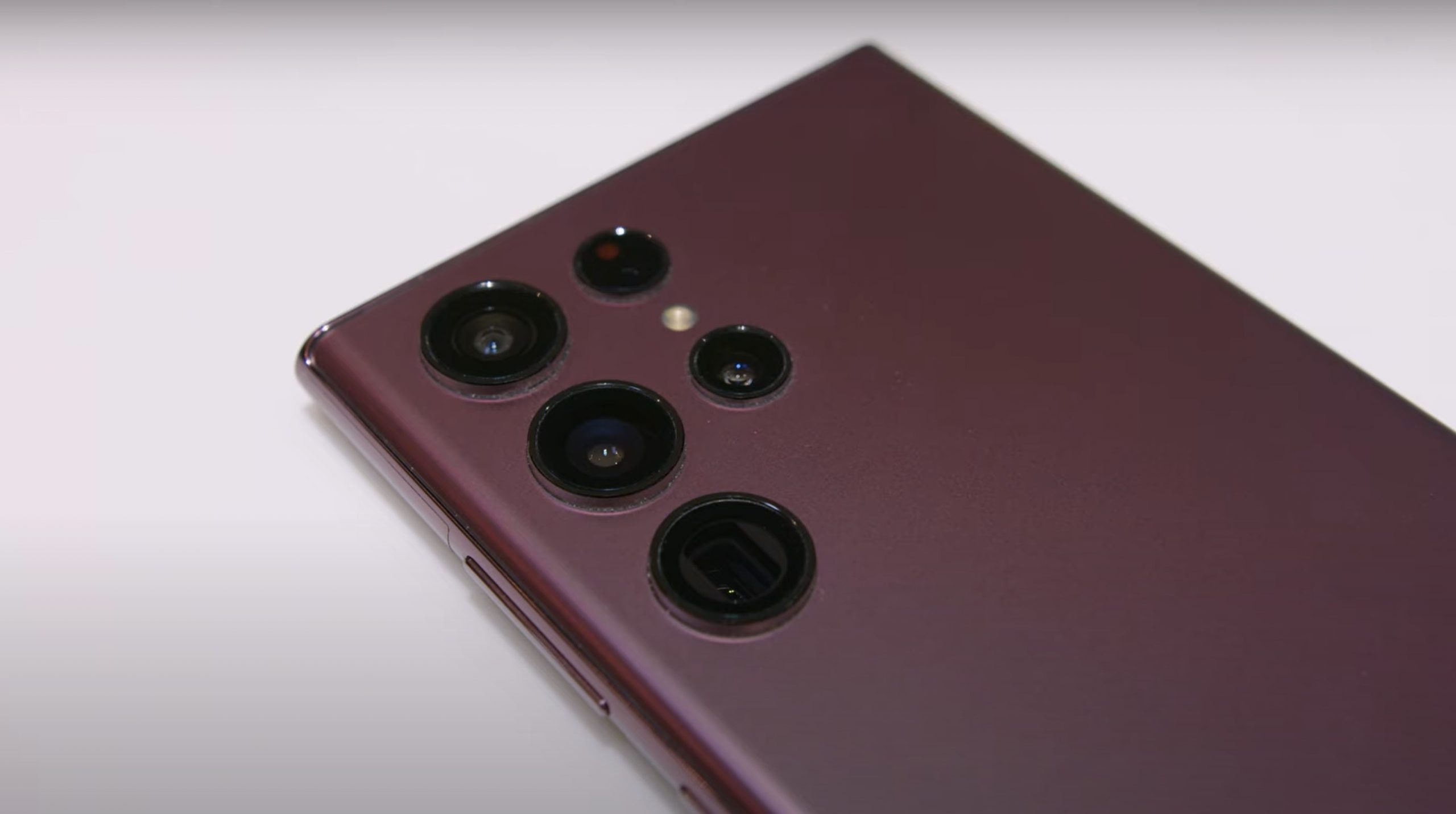 On the Samsung Galaxy S22 ultra this device has a very different aesthetic from the other two the front glass is curved and it's not like a apologetic curve like we saw last year on the s21 ultra the s22 ultra this year it's almost like a straight up round corner and it's very much like the curvature of the note 20 from a couple years ago in fact the whole design is very much note 20 like it's got very similar dimensions and it even has the s pen that's stored internally but the Galaxy S22 ultra does not support microSD so if you need a lot of storage you have to pay for it up front.
This device has a camera array that is a little bit different just from every other phone out there so it's basically got cutouts in the glass for five different protrusions and this is the type of kind of camera styling you only see if there's like a single lens right like old phones with single lenses they would have a single aperture cut out for that one lens right and ever since then it's just been camera humps and bumps and just clusters of camera stuck into some kind of shape in the back of phones but this is just holes and to me this is a pretty classic look.
Galaxy S22 Ultra Colors
I think everyone's gonna be a little different on this in terms of the colors I saw these devices in this phantom black which exists across the whole line and it's a pretty standard matte black to me I think they made a big deal of it last year but it's a nice black it's just it's just black there's also a phantom white which has this iridescent pearly finish to it which I think is pretty cool.
Galaxy S22 & S22 Plus Colors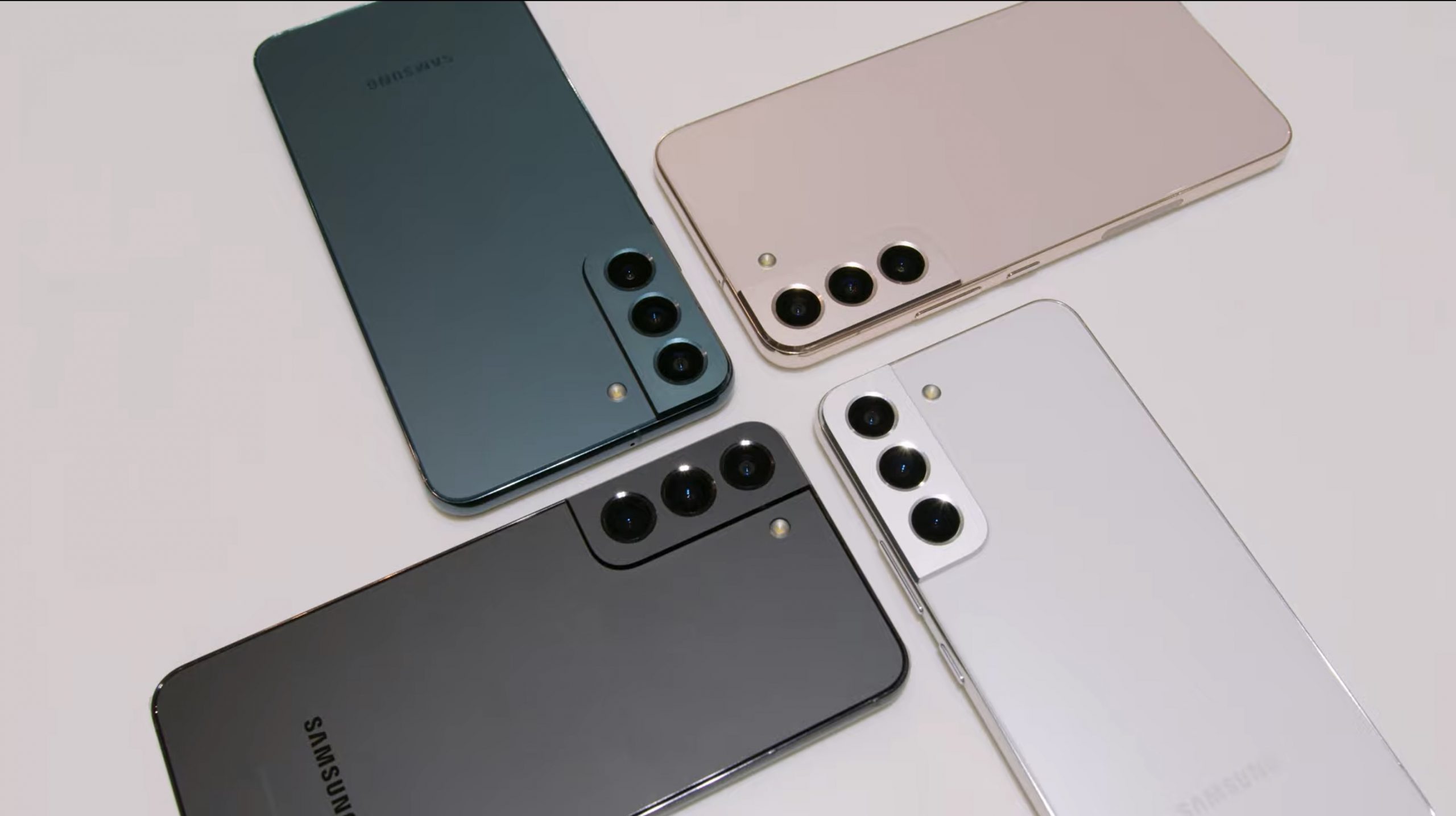 On the regular Samsung Galaxy S22 and the Samsung Galaxy S22 plus there's this pink gold which looks nice but the coolest color across the board to me is this green color they have this year it's a dark green so it's not obnoxiously bright but the same time it's got this rich saturation to it I think it's a really nice color and if I could get a different colored review unit instead of this black one  definitely be that green one.
In terms of the size the Samsung Galaxy S22 ultra and because it's got curved glass and rounded edges I would definitely throw a case on this thing if this is the size you're going for in terms of the other two the S22 and the S22 plus they are a little bit smaller this year than you might expect and it's not just the frame it's actually.
Display Size & Resolution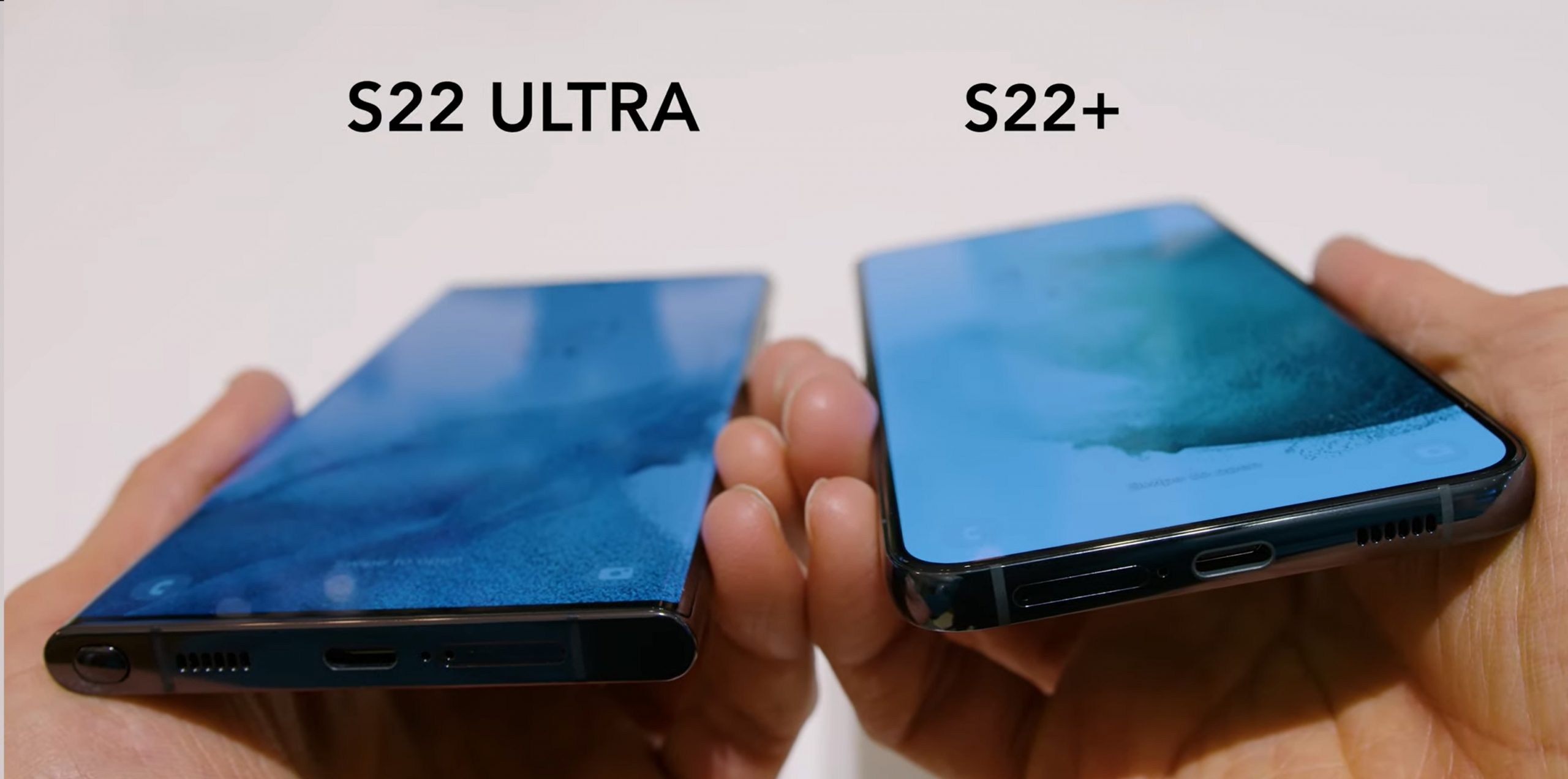 The displays they've been shrunken down a little bit so they have a 6.1 and a 6.6 inch screen now respectively and they're both 1080p ITPO panels that can hit up to 120 hertz they're not the highest in resolution but they look good but in true ultra form the ultra version has the best screen so this has a 1440p panel also with ITPO tech in here but this time it can go down as low as 1 hertz and it's also a bigger screen at 6.8 inches but the peak brightness on this display is 1750 nits it's the brightest screen I've ever seen on paper but the thing you have to keep in mind with knit count is that knit count and perceived brightness don't have this like linear relationship like if you double the knit count does not double the perceived brightness so if you have like a 500 nit screen and like a thousand nits screen even though that that thousand hit screen is double the unit count it's probably only like 50 brighter so it's just something to keep in mind if you're looking at like an older phone and you're like you know I had a 500 nit phone before it's not like triple the brightness going up to the screen it's not even close it's probably like half that okay.
Flinger Print Sensor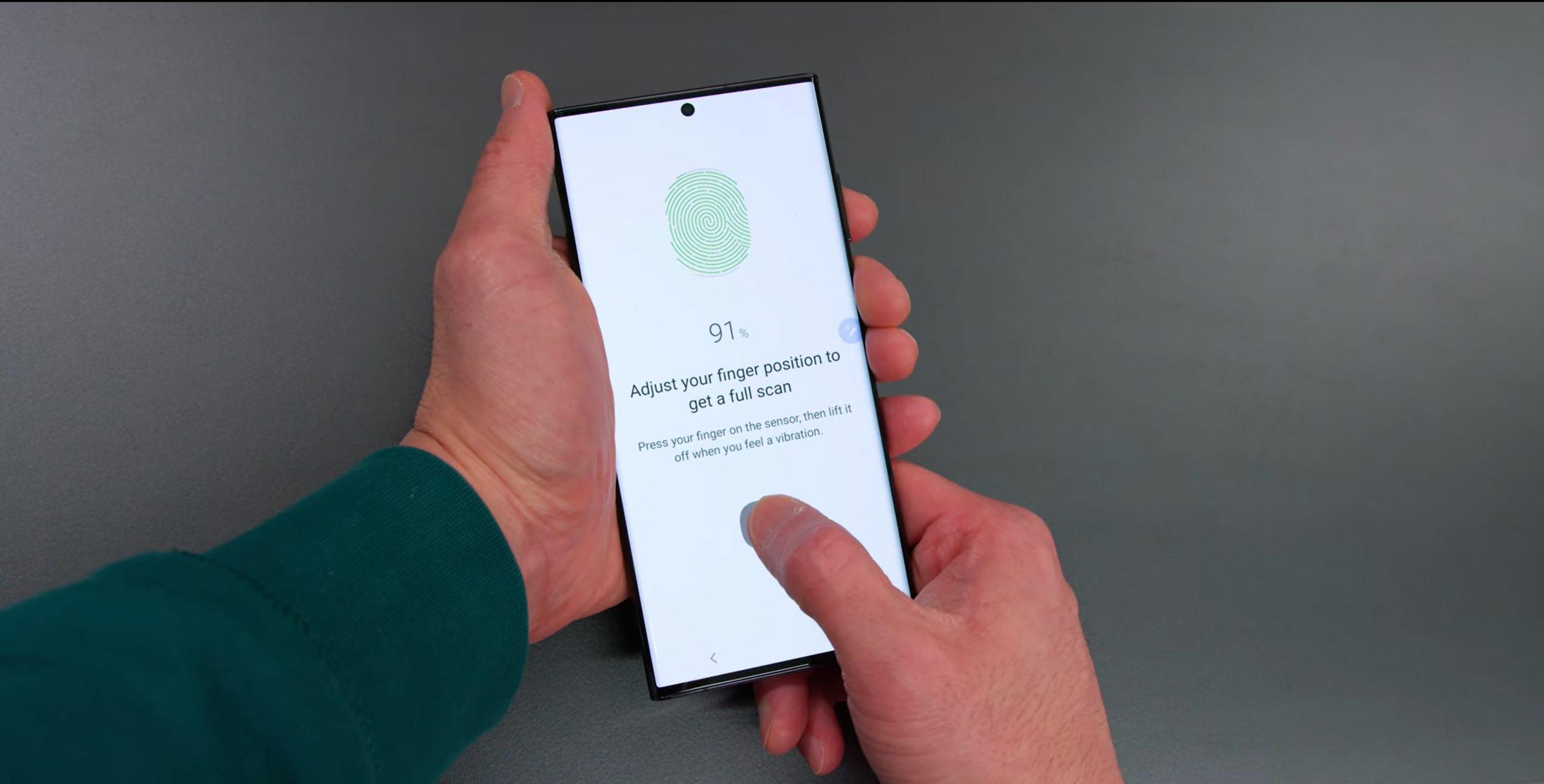 All three of these phones have an under display ultrasonic fingerprint sensor and they're seemingly all the same in terms of speed like I thought that maybe the ultra would be faster than the other two but from what I tested they're all the same.
Samsung Galaxy S22 Ultra S Pen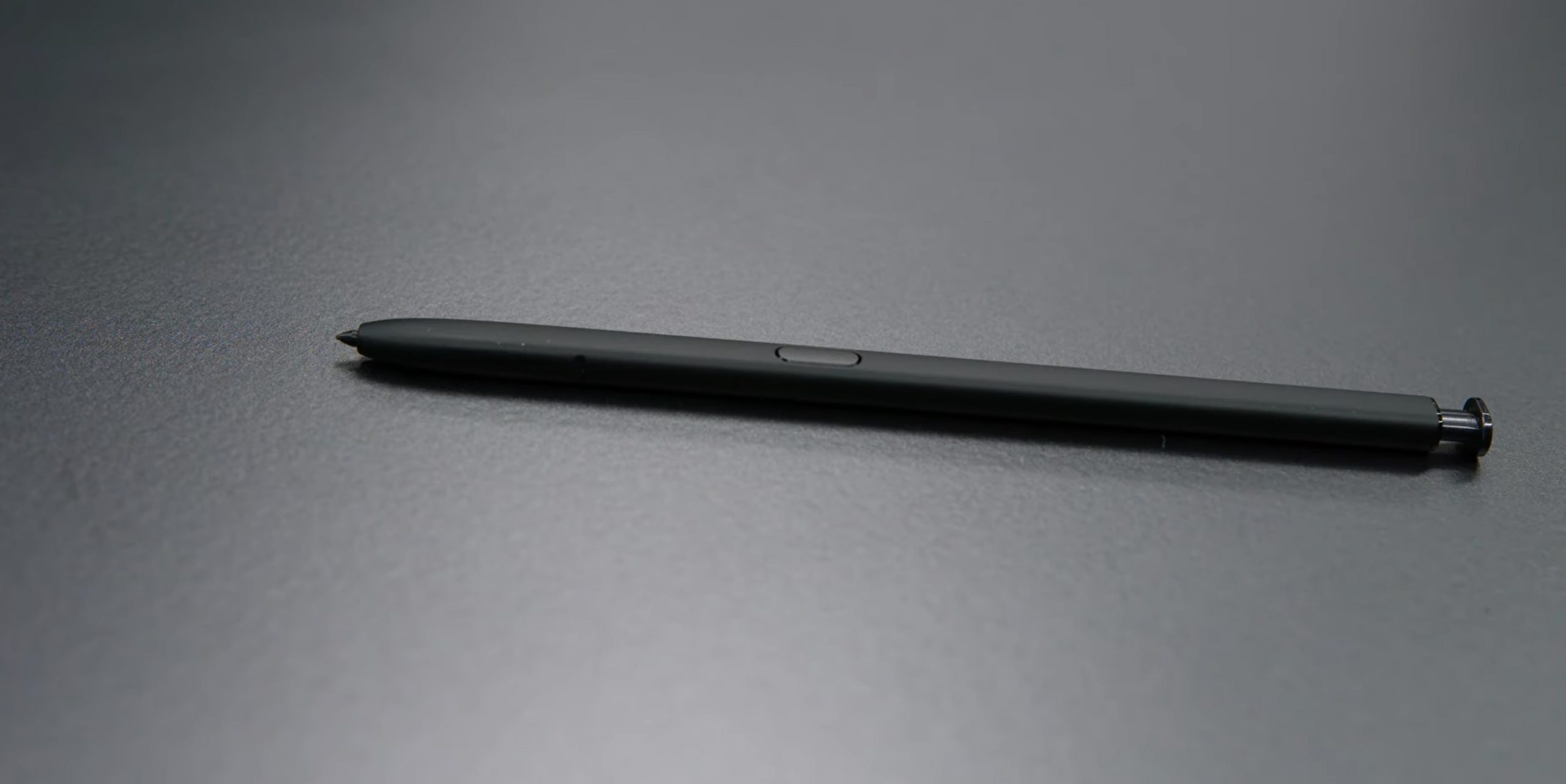 The Samsung Galaxy ultra also has the S Pen so this s pen is actually a little bit different from all the s pens that we've seen on like older note devices it's still a slim pen because it's got to fit inside the device but it's got this matte rubber coating on it which makes it so much nicer to use I feel like a lot of the older node devices they had these pens that were like slippery and sleek and very colorful right they had these like shiny blue and shiny yellow ones but they just weren't nice to write on this is a lot better it's still not a thick pen like I would prefer a girthier pen but it's a lot better than previous devices and the latency is very low like it's I think it's been reduced to like 2.8 milliseconds or something like that you can tell like when you draw on this thing you write on it there's very little latency between when you draw the stroke and when you see it appear on the screen.
Samsung Galaxy S22 Battery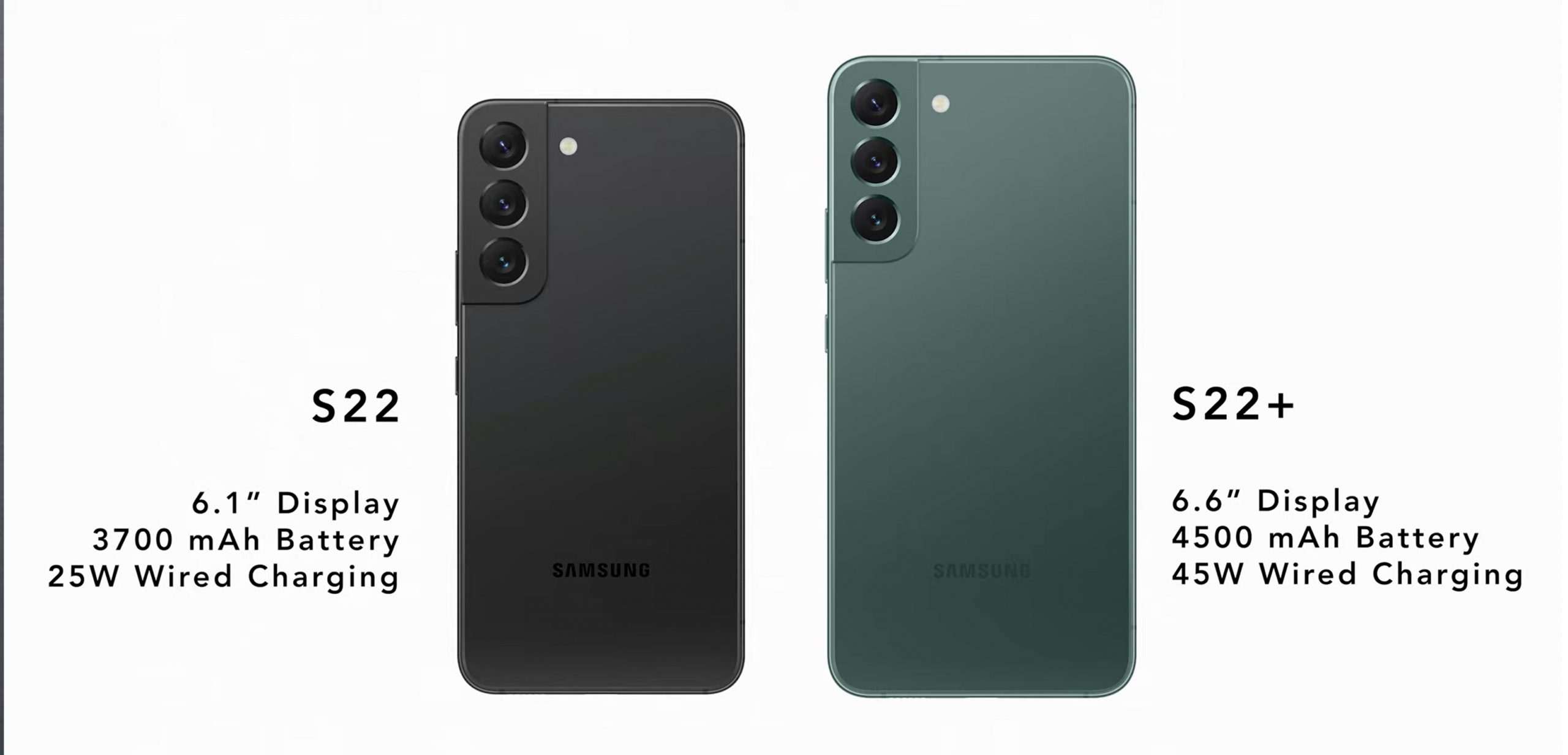 I really feel like it's important for this product this type of device but that 200 price difference between the regular S22 and the S22 plus gets you a bigger screen a bigger battery as well as faster charging but in terms of differences that are kind of in the performance I can't tell you I need to get review units and actually test them out, My guess is that the Galaxy S22 plus because it's bigger and we're dealing with a chip that can get pretty hot if you push it it'll just get better performance than the regular S22.
Samsung Galaxy S22 Ultra Camera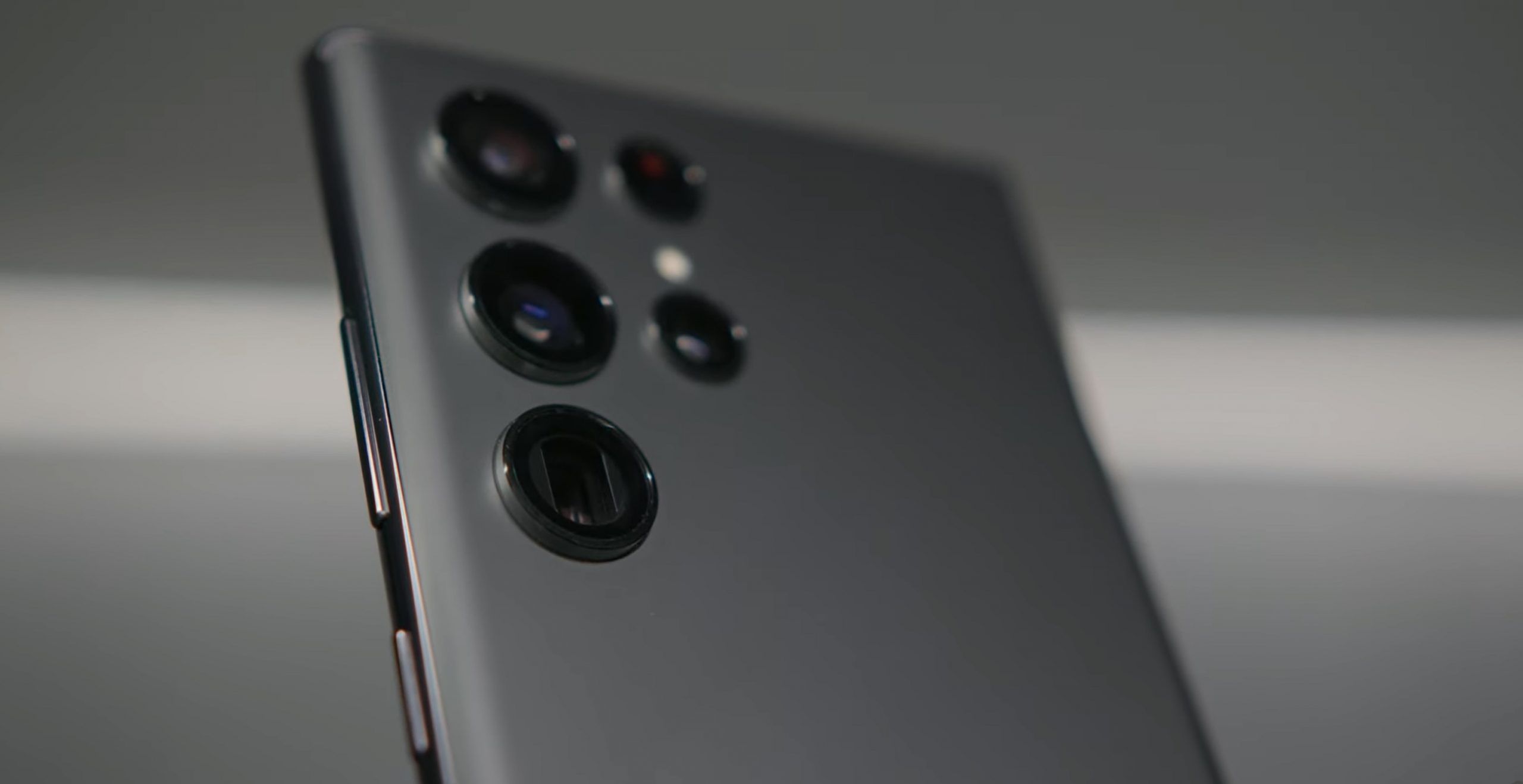 The camera systems I wasn't able to spend a lot of time with them but the Samsung Galaxy S22 ultra seems to have a really good camera system the low light photography is some of the best I've seen like it's weirdly good at picking out details in really poor lighting conditions and even with good lighting the shots look very promising now I do need to spend way more time with this camera system to do a proper review on it which will come in the future and I want to compare it with the regular S22 devices.
Chipset
These devices are running one ui 4.1 and I think all of the Samsung Galaxy S22 devices in north America are going to be equipped with the snapdragon 8 gen 1 but there is this rumor that Samsung is going gonna be supporting these devices for guaranteed four years of android operating system updates or like four generations of android OS which is awesome plus five years of security which I think really makes a big difference like it adds a lot of value to a product like this it's like a high-end product, I think that's very important in this day and age so there you have it these are the Samsung S22 series devices.
Samsung Galaxy S22, S22 Plus & Ultra Price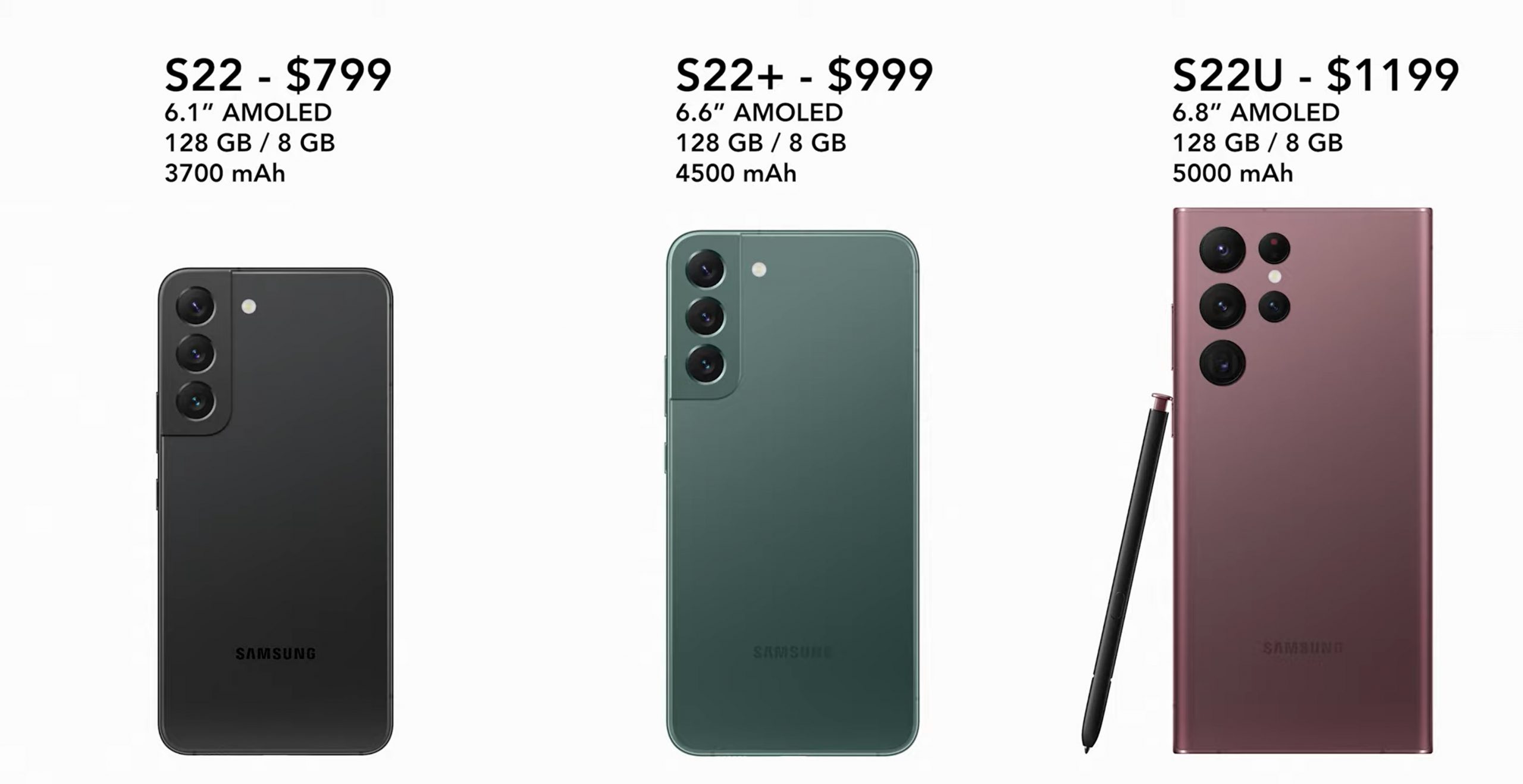 In terms of pricing they have surprisingly kept the pricing from the previous years of galaxy s devices so it starts at 799$ at the base and it goes up in 200$ increments as you go up to bigger and better devices now the thing I'm most surprised about was this device initially I was like they have the same pricing at 1199$ but now they include the s pen but then you realize that at that base model that 1199$ model the 128 GB storage they don't have the full 12 GB of ram it's this 8 gig model and I don't know how.
Final Thoughts
I feel about it like on one hand it's good that they have this kind of entry level pricing for the Galaxy S22 ultra if you want to get into it but the same time it's like it's the ultra phone right it's got the high res screen so any art assets in games that you're loading or just assets in general that you load into memory are going to be bigger than the 1080p version also you have the pen functionality and because you have that if you're ever drawing a note or writing something that's going to load up into the memory when you're swapping between stuff this is just going to inherently use more memory than the regular s series phones and I just feel like they should have just thrown in 12 at the entry level.
Also Read This: 5 Most Anticipated Upcoming Mobile Phones of the Year 2022