The beautiful world that is without frontiers, Global Village, is ready to celebrate more than 90 different cultures when it opens this morning. This
The beautiful world that is without frontiers, Global Village, is ready to celebrate more than 90 different cultures when it opens this morning. This fair season is filled with fun activities, experiences, shopping food, and more, in this article you will find all about Global Village Dubai Ticket Price Routs & Timing.
Global Village Dubai is a unique and integrated location to enjoy the best eating, shopping and entertainment experiences . It also offers visitors an array of entertainment, shows and events that are the biggest and the most diverse of the area. it's the first family destination that offers entertainment, culture, and retail in the entire region. It is a great place to enjoy a wide range of exciting experiences for the millions of visitors who visit out in the open. It showcases the best of cultures from around the world at a lively festival that takes visitors on a trip through several pavilions, each one representing the uniqueness and diversity of a particular nation.
Also Read This: Most Visited Places in Dubai in Winter
It also offers amazing international cuisine as well as awe-inspiring entertainment options across a broad selection of thrilling events and exciting excursions. Its extraordinary experience can be enjoyed with a Global village Dubai ticket costing price just AED 22.5 Its Global Village operation season begins in November of each year, and continues through April the next year.
Season 27 of the popular entertainment destination will be running throughout the duration of 6 months. The park will be open from 4 pm each day and will remain open until midnight. On weekends, however, it will be open until 1 am.
Global Village Dubai

Ticket Price
Global Village Dubai Tickets can be purchased on the internet or at counters. Online purchases are 10% cheaper.
An all-new value ticket was introduced this season that can be used from Monday through Thursday (excluding the public holiday). The ticket is valid for any day and allows guests to access the park on any day, which includes public holidays.
Global Village ticket price:
Tickets bought online are priced at 22.5 AED. Tickets purchased on-site are 25 AED.

The value ticket costs Dh20 per person, whereas each day ticket costs Dh25.

 

On the internet, this value ticket can be sold at Dh18 but a day ticket costs Dh22.50.
Inclusions in Global Village Dubai Ticket:
Your ticket includes entry into Global Village for a full day. You will also have access to all of the country pavilions and food trucks, fountain shows, The Railway Market, and much more.
Global Village Timings:
Monday through Sunday 4:00 PM until 12:00 AM
Tuesdays are reserved for families and ladies with the exception of public holidays that are officially recognized.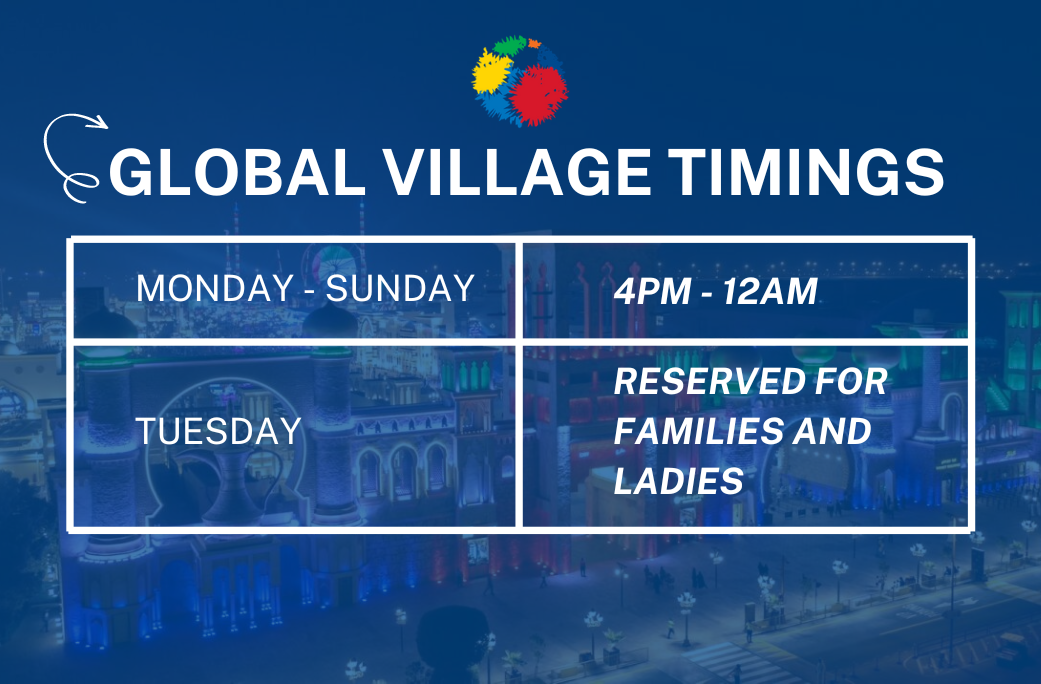 Global Village Dubai Pavilions
The new season includes 27 pavilions that will enhance the experience of the guests and provide an unforgettable shopping experience. The new pavilions this season include Qatar as well as Oman.
The pavilions of the park include UAE, KSA, Qatar, Bahrain, Kuwait, Afghanistan, Africa, Americas, China, Egypt, Europe, India, Iran, Oman, Japan, South Korea, Lebanon, Morocco, Pakistan, Palestine, Syria, Thailand, Turkey, Yemen, and Russia.
Road of Asia
Road of Asia is a brand new experience in the park where diverse traditions and cultures from one of the most populous continents will be displayed. The new park will feature exciting outlets that will give customers authentic and authentic goods made from Sri Lanka, Indonesia, Cambodia, Malaysia, Brunei, Laos, Hong Kong, Taiwan, Vietnam, Nepal, Bhutan, Myanmar along with the Philippines.
"Road of Asian" is a brand new pedestrian street with 43 kiosks from 13 Asian countries that are not included in the pavilions.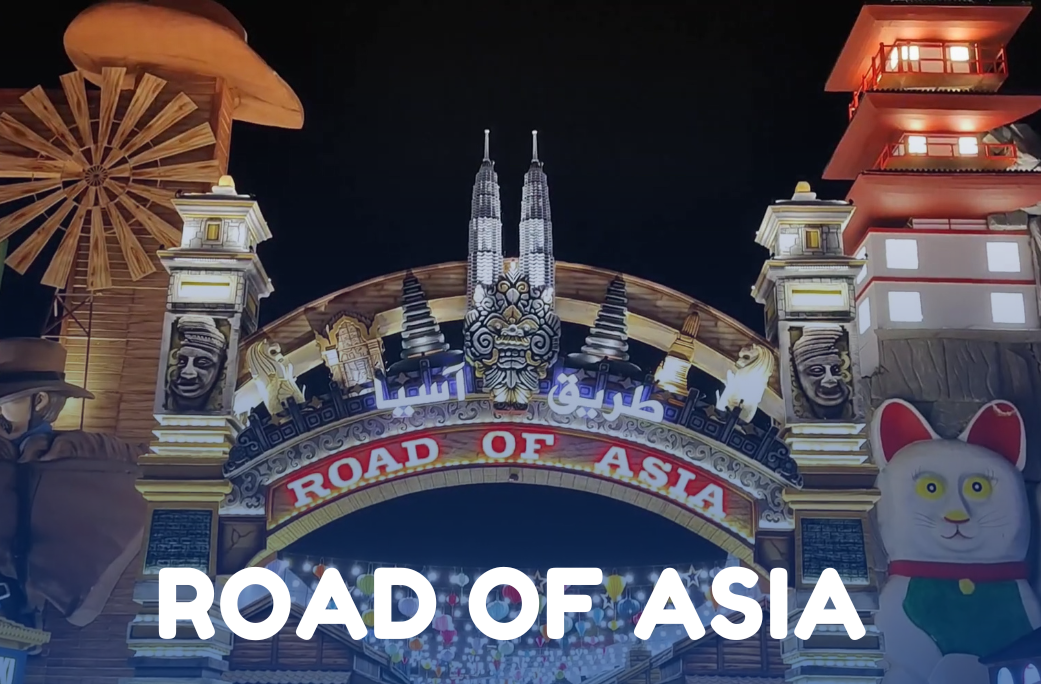 Balloon Ride Global Village Dubai
This time Global Village will take visitors to an amazing high point. Helium balloon rides will take visitors 200 feet higher than the ground and provide a 360-degree perspective of the park as well as the Dubai skyline.
The Global Village Big Balloon' has the capacity to hold up to twenty guests of all ages. It's ideal for those with determination.
The balloon can reach as high as a six-story structure and has a 65-foot diameter. It is expected to become a brand new famous landmark. it is visible from miles away around the multi-cultural city.
House of Fear Global Village Dubai
The House of Fear at Global Village is referred to as the most haunted and scary house in the region. It is among the numerous new attractions planned for Dubai's Global Village when it reopens on the 25th of October.
The recently constructed House of Fear will feature an ensemble of actors from nine different experiences, including haunted burial grounds as well as a psychiatric ward in a hospital as well as a screamer tree. With a total area of 660 square meters, the haunted concept is equipped with modern animatronics technology coming from the US.
Diggers Lab Global Village Dubai
Another attraction that is new to The park features Diggers Lab. Little ones can wear the look of a construction helmet to participate in this educational and fun activity. The digger experience with hydraulics lets kids take charge by controlling dumpers, diggers as well as other construction equipment.
"Ripley's Believe It or Not!

 

Odditorium
The Ripley's Believe It or Not! Odditorium is returning in Global Village for its fourth year. With over 200 incredible and amazing exhibits across the globe, The odditorium has numerous new exhibits as well as a new lobby, and brand-new retail offerings.
There will be more than 50 new exhibits to be seen, including a 14-foot-long killer crocodile an exhibit of matchsticks that contains more than one million matchsticks, and the Cristiano Ronaldo's 'money legs exhibit. The well-known "torture chamber" gallery offers a photo opportunity that will complement the incredible exhibits of past prison sentences.
Restaurant choices at Global Village Dubai
If you're looking for the finest street food in Dubai, Global Village is the perfect spot for you. It offers everything from Asian bites and juicy, fresh fruits, to spicy street food along with sweet sweets you can treat your taste buds to a vast range of tastes.
More than 50 dining concepts as well as more than 200 cafes, restaurants, and street foods are in the offerings of the culinary menu. A new dining experience will let foodies savour delicious dishes from all over the world while they enjoy stunning sights, sounds, and views of Dragon Lake.
A floating market with Asian influences serves all kinds of food from steaming bowls of Indonesian Ramen and Vietnamese Pho up to Malaysian spiced grills as well as Korean dumplings.
The Indian market will be serving famous street food staples from across India in the setting of a wedding, and it has also been completely updated, including huge desserts and pastry-themed décor.
Global Village Dubai Location
How can to reach Global Village Dubai?
Via Dubai RTA Bus
Route No 102:
From Al Rashdiya Bus Station in 60-minute intervals.
Route No 103:
Starting from the Union Bus Station at a time of 40 minutes.
Route No 104:
Starting from Al Ghubaiba Bus Station every 60 minutes.
Route No 106:
Starts From The Mall of the Emirates Bus Station every 60 minutes.
Via Private Car
Global Village is located on Sheikh Mohammed Bin Zayed Road (E311) Exit 37.