US passport is one of the best and most valuable passports in this world. International travel becomes a lot easier once you have it. You do not need to apply for a visa for most countries in the world.
To get a US passport, after applying, you have to wait for the passport processing time. In this article you will get the answer about how long time it will takes to get a US. Passport and passport renewal time.
How long does it take to get a US passport?
The passport application process takes almost four to six weeks. If you only pay the $145 normal application fee, your passport will be processed "routinely."
If you cannot afford to wait 4 to 6 weeks, you have another option of opting for expedited processing by paying an additional cost of $60. Choosing this expedited processing will ensure that you receive your passport within 2 to 3 weeks. In this situation, the whole amount you need to pay for the passport will be $205.
Sometimes, you may need a passport right away. This can happen when something really important comes up suddenly, like a serious emergency or if you have to travel immediately for an urgent reason. To get a passport as soon as possible, you should visit the passport agency you are applying for. You must also explain why you need to get a passport as soon as possible.
The agency handling the passport will look at your situation and decide what to do. You will have to pay an additional fee for this processing which is called expedited at the agency. With this type of processing, you will receive your passport within 8 business days.
It usually takes 4 to 6 weeks to get a US passport. The table below shows more information about how long it takes to get a US passport:
How long does it take to renew a Passport in US?
If you are an adult who obtained your first passport after the age of 16, the passport is valid for 10 years. For children under 16, it is valid for 5 years only.
Once expired, you must renew your passport to travel again. This is done by sending Form DS-82, US. Apply for passport renewal at the nearest passport center for eligible persons. You must again attach supporting documents and applicable fees.
The processing methods and times for renewal are the same as if you were applying for the first time. With the normal process, your passport renewal will take 4 to 6 weeks and will pay no additional fees other than the $110 application fee.
With the Expedited method, your renewed passport will be processed within 2 to 3 weeks for an additional $60 fee. You will have to pay a total of $170 for the passport. Also, the fastest way you can request from the passport office will only be allowed in certain cases, and they will decide whether you can use it or not. If they approve it, the passport will be processed within 8 days for a fee set by the agency.
Applying for a US Passport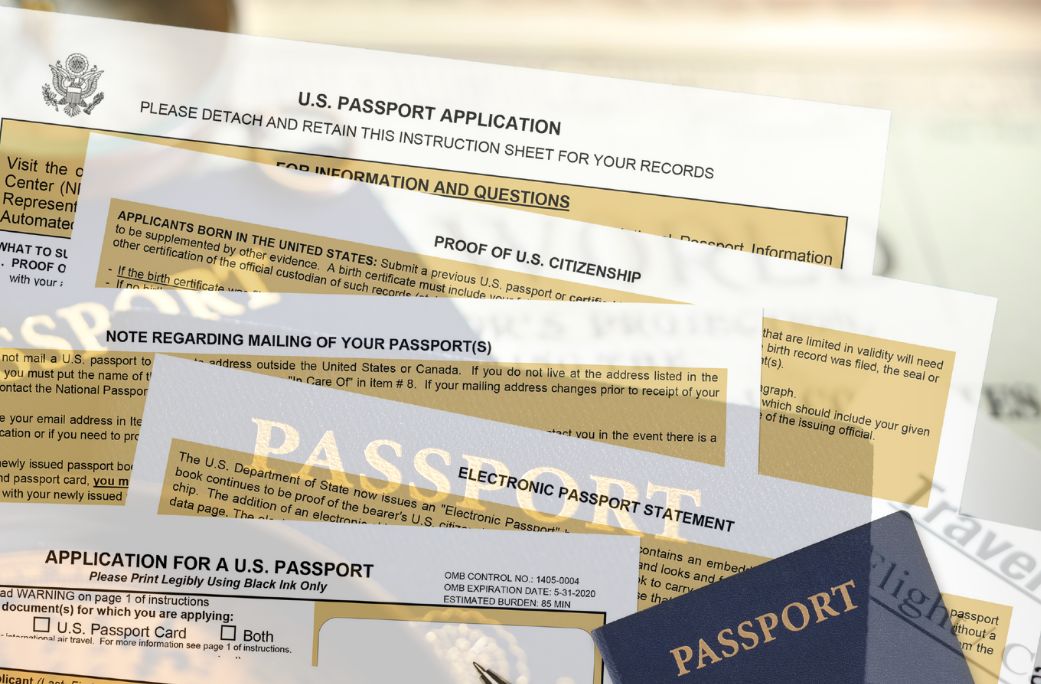 If you want to apply for a fresh US passport for the first time, you need to fill out a passport application form called DS-11. You have to submit the form along with necessary fee and supporting documents. When you submit these documents to your nearest passport center, they will process it.
What documents do I need for a passport in US
Proof of citizenship: This can be a birth certificate, naturalization certificate, or citizenship certificate.
Proof of identification: A government-issued photo ID, such as a driver's license or military ID, is usually required.
Passport photo: You will need a recent passport-sized photo that meets official requirements.
Application Form DS-11: This is the application form you need to fill out.
Fees: You have to pay the required passport application fee.
Social Security Number: It is important to provide your Social Security number for the application.
Parental Consent: For children under the age of 16, both parents or legal guardians are required to provide consent.
If you cannot provide a primary form of identification, you must submit secondary documents as available to you. Secondary forms of identification include:
Delayed birth certificate
No record letter
Original official or private documents
Form DS-10 Birth Affidavit (PDF)
People who hold dual citizenship may need a US passport to enter and leave the United States. They may also need to use their passports from other countries when they enter and exit the country.