As an UAE resident, travel is an exciting dream come true. And as such, we enjoy an unparalleled opportunity to visit a range of nations without needing an entry visa – from stunning landscapes and rich cultural traditions, to sandy beaches and bustling city life, many destinations await visitors from the UAE with open arms. In this comprehensive guide we present some of the most appealing visa free countries for UAE residents available to all nationalities; these offer exciting activities perfect for adventure, relaxation or cultural discovery that are guaranteed to give each visitor their ideal vacation.
Visa Free Countries for UAE Residents
According to a popular travel agency, Georgia, Maldives, Kazakhstan, Seychelles, Serbia and Jordan all offer visa-free entry for UAE residents. Meanwhile Afghanistan, Armenia, Azerbaijan Kyrgyzstan Thailand Albania offer visa on arrival services while some require additional documentation before issuing visas to certain nationalities.
Armenia: A Tapestry of History and Nature
Armenia, an ancient country full of history and welcoming UAE residents with open arms, offers visa-free entry for up to 180 days. As one of the first nations to embrace Christianity, Armenia boasts numerous places of worship such as old monasteries and churches as well as stunning natural features like snow-capped mountains, lush valleys, and tranquil lakes that create an enchanting setting for exploring.
Azerbaijan: Where the East Meets West
Azerbaijan, a beautiful crossroad of East and West cultures, provides UAE residents with an exotic cultural adventure. Although considered Islamic in religion, Azerbaijan exhibits elements from Iranian, Turkish, Soviet Union and Russian cultures in its society and architecture – from its buzzing modern cityscape of Baku to its timeless Walled City at Icheri Sheher; visitors are drawn by its diverse heritage, stunning landscapes and vibrant cultural experience.
Bahrain: Pearls and Beyond
Bahrain, known for its pearl beds, provides UAE residents an opportunity to discover maritime culture. Scuba diving within the Arabian Gulf allows participants to encounter pearl diving as they explore oyster beds. If you want something different and exciting, pearl diving offers an amazing way to discover Bahrain's treasures underwater world.
Brunei: Is Home to Beautiful Tropical Landscapes and Unique Wildlife
Brunei is a small tropical nation packed with beautiful natural wonders that draw travelers in droves. Boasting stunning beachfronts such as Muara's and The Ulu Temburong National Park's, visitors can marvel at Brunei's exquisite natural surroundings while taking delight in its distinctive wildlife like proboscis birds – creating a nature lover's paradise!
Cook Islands: Peace in the Pacific
The Cook Islands, including Aitutaki and Rarotonga, offer residents of UAE an amazing vacation destination, boasting stunning beaches and lagoons with clear turquoise waters perfect for swimming and scuba diving. Come discover its peacefulness while making unforgettable memories!
Egypt: An Ageless Land of Wonders
Egypt, with its ancient monuments and cultural treasures, offers UAE residents a chance to travel back in time. From floating down the Nile to floating above Luxor by hot-air balloon, Egypt will leave UAE residents breathless with its historical and cultural wonders; discover magnificent pyramids, ride through traditional feluccas, and experience Cairo's vibrant vibes!
Fiji: Is an Exotic Paradise in the South Pacific
Fiji, located in the South Pacific region, provides UAE residents a chance to experience a vibrant holiday destination. From serene beaches teeming with palms to luxurious islands and luxurious accommodations, Fiji embodies luxury and tranquility – take part in water activities, relax at spas and immerse yourself in its vibrant culture!
Georgia: Journey Through History
Georgia is an essential travel destination for UAE citizens interested in history. Enjoy visa-free entry for up to 90 days and explore Georgia's archaeological marvels and historical places such as Uplistsikhe Cave Town or Narikala Fortress which provide glimpses into our ancestor's lives while you take pleasure in their warm hospitality and unique cuisine that add to its allure.
Indonesia: Archipelago of Adventure
Indonesia, an incredible ecosystem comprising over 17500 islands, is an unparalleled paradise of adventure and beauty. Popular tourist spots in Indonesia include Bali as its most-visited exotic island and Jakarta its vibrant capital; both destinations offering diverse landscapes, vibrant cultures, and warm welcomes – making Indonesia an appealing tourist destination among UAE residents.
Japan: Traditions and Modern Marvels
Japan seamlessly blends ancient traditions with contemporary cities, providing UAE citizens an exciting journey. Venture through Tokyo's futuristic towers while experiencing the ancient magic of temples and shrines from yesteryear or take in Mount Fuji's splendorous beauty – not forgetting all about Japan's unique seasons and cultural practices which add further depth. This visa-free nation promises something unforgettable!
Jordan: Reveals Ancient Treasures
Jordan is an exceptional destination that permits UAE nationals to travel visa-free. Jordan boasts both natural and historical attractions ranging from Petra's status as a UNESCO World Heritage site to Wadi Rum's stunning nature – not to mention ancient ruins to explore within Jordan's desert! Visit www.jordan.ae for more details and travel advice.
Kazakhstan: Offers Massive Landscapes and Exciting Outdoor Adventures
Kazakhstan, known for its vast scenery and spectacular landscapes, offers many outdoor recreational activities. Almaty is Kazakhstan's biggest city, making it ideal for mountain biking, skiing and hiking trips without having to travel across other towns and cities. Explore unspoiled nature such as The Tien Shan mountains or Charyn Canyon while in Almaty.
Kuwait: An Infusion of Tradition and Modernity
Kuwait City The capital of Kuwait offers an intriguing blend of tradition Arabian life with modern trends. Visitors to this bustling metropolis will discover stunning sights – manmade as well as natural – surrounding this bustling metropolis, along with vibrant arts scenes in Kuwait traditional souks and delicious dining options that enhance their cultural experience.
Lebanon: An Intricate Pattern of Heritage
Lebanon welcomes UAE residents with its long and diverse history, gorgeous landscapes and lively cultural life. Visitors to Lebanon will discover everything from Roman ruins and castles that have been well preserved over time to historic mosques or churches as well as stunning beaches, culinary treats of international standards, vibrant nightlife venues and mountains that provide visitors with numerous experiences that they won't soon forget!
Malaysia: An Ethnic Melting Pot
Malaysia is an exquisite nation brimming with rich culture and traditions that draw UAE residents with its distinct identity. Boasting bustling cities such as Kuala Lumpur and serene landscapes in Borneo, this remarkable nation combines lively city life and stunning natural beauty in equal measures. Enjoy delicious food and drinks as you venture through ancient rainforests or just soak up their warm welcome from friendly citizens!
Maldives: is truly paradise on Earth!
The Maldives is famous for its stunning beaches, clear waters and luxurious resorts. Residents from UAE can experience its distinct nature, rich greenery and iconic landmarks while taking pleasure in thrilling water sports, relaxing in villas with pools or snorkeling and scuba diving to witness this tropical paradise's magnificent marine world.
Mauritius: Idyllic Beaches and Breathtaking Landscapes
Mauritius is an extraordinary destination, offering breathtaking mountains, lush vegetation and idyllic beaches that give UAE residents an experience they will never forget. Relax on traditional white sand beaches or take part in thrilling watersports – there's something special to discover here in Mauritius' Indian Ocean paradise.
Morocco: A Tapestry of Exciting Experiences
Morocco draws UAE residents with its lively markets, desert excursions and rich cultural heritage. From lively medinas of Marrakech and Fes to tranquil coastal cities like Essaouira and Chefchaouen – Morocco provides endless adventures. Discover ancient ruins, try delicious Moroccan food and soak up its vibrant ambience – Morocco will not disappoint.
Oman: Offers Exquisite Wonders Awaiting Discoverion
Oman is located on the Arabian Peninsula and boasts stunningly beautiful natural sights. Boasting clear, crystal-clear water, sandy beaches, sprawling deserts, breathtaking mountain tops and incredible engineering feats including forts from ancient civilizations as well as its vibrant traditional market; Oman boasts stunningly stunning natural wonders to offer tourists who visit this captivating nation. Tourists will experience its rich culture of engineering feats while discovering engineering feats or simply shopping its traditional market stalls.
Philippines: Mother Nature's Playground
The Philippines are an undiscovered treasure, full of natural and cultural wonders. Boasting stunning scenery as well as underground rivers and spectacular dive spots, this archipelago provides endless adventure. Discover unique forms of transportation while tasting delectable cuisine – not to mention experiencing their warm hospitality!
Qatar: Where Tradition Meets Modernity
Qatar is an outstanding blend of contemporary and traditional elements found nowhere else. Qatar prides itself on its longstanding heritage while boasting modern facilities, hotels, and infrastructure. Furthermore, Qatar's array of international culinary styles, cultures, and lifestyles offers visitors a delightful and enriching experience.
Saudi Arabia: Is Home of Cultural Wonders
Saudi Arabia provides UAE residents with an incredible opportunity to discover its vast landscape and diverse cultural heritage, from historic sites such as Madain Saleh and Red Sea beaches, as well as several incredible tourist destinations such as Madain Saleh or Jeddah. Travelers will experience its captivating combination of spirituality, history and natural beauty that this magnificent nation can provide.
Seychelles: is known for its breathtaking diving paradise and stunning beaches.
Seychelles is a destination known for its variety of diving. Offering coral gardens, wrecks and an abundance of marine life – making Seychelles one of the top diving spots worldwide. Explore Mahe, La Digue and Praslin outer islands while revelling in this tropical beauty paradise!
Singapore: Where Urban Sophistication Meets Nature
Singapore is an exotic city-state boasting beautiful architectural design and lush vegetation. UAE residents are invited to discover its many areas, sample delicious cuisine options, and witness how urbanization co-exists harmoniously with environmental conservation efforts. From Gardens by the Bay to Little India's bustling street life – Singapore provides endless travel possibilities.
South Africa: Is Home of Biodiversity and Natural Beauty
South Africa stands out as an oasis of natural splendor, boasting unparalleled diversity in its landscapes and wildlife. From Cape Town's lush countryside and vast ocean views to its abundant wildlife and breathtaking natural features, South Africa promises an incredible journey experience. Enjoy an adventurous safari adventure or explore vibrant cities like Cape Town and Johannesburg and take in its diverse culture – this country will never disappoint!
South Korea: Ancient Traditions and Contemporary Marvels
South Korea proudly showcases its rich culture, giving UAE residents a glimpse of its rich past as an imperial power. Home to eleven UNESCO World Heritage sites such as temples, palaces and fortresses; visitors can explore South Korea's imperial past while also experiencing modernity at Seoul or Jeju Island.
Sri Lanka: The Pearl of the Orient
Sri Lanka, commonly referred to as the "Pearl of the Orient," is an increasingly popular travel destination among UAE residents. Without needing visas, visitors are easily able to enjoy its stunning beaches, historical relics sites and islands – not forgetting its picturesque landscapes such as tea plantations national parks and ancient cities that make this destination appealing. It makes an excellent vacation spot for nature enthusiasts as well as history enthusiasts alike!
Thailand: An Enchanting Tropical Paradise
Thailand is now one of the leading tourist destinations, drawing UAE visitors with its serene beaches, delicious cuisine, stunning temples and rich culture. From Bangkok's busy avenues to Phuket and Krabi Islands – Thailand provides plenty of exciting adventures, cultural immersion experiences and relaxing beaches for visitors from UAE countries.
UAE residents holding Indian and Pakistani Passports who wish to travel visa-free have access to an extensive list of countries without needing visas for entry into any visa-free travel destination.
List of Available to

Visa Free countries for UAE Residents who hold Indian as well as Pakistani Passports
In general, the choice of countries that are visa-free for UAE residents is influenced by the regulations for passports of every country. In the past, residents or citizens from those of the United Arab Emirates had the benefit of selecting from a long list of countries with admission without visa to UAE travelers.
Due to the high number of Indian and Pakistani expatriates within the UAE There are many people searching for visa-free countries that accept UAE residents who have Indian as well as Pakistani passports. These countries offer the opportunity to travel without hassle and explore. The countries that are visa-free for UAE residents who have Indian as well as Pakistani passports are listed below:
Visa-Free Countries for UAE Residents with Indian Passport: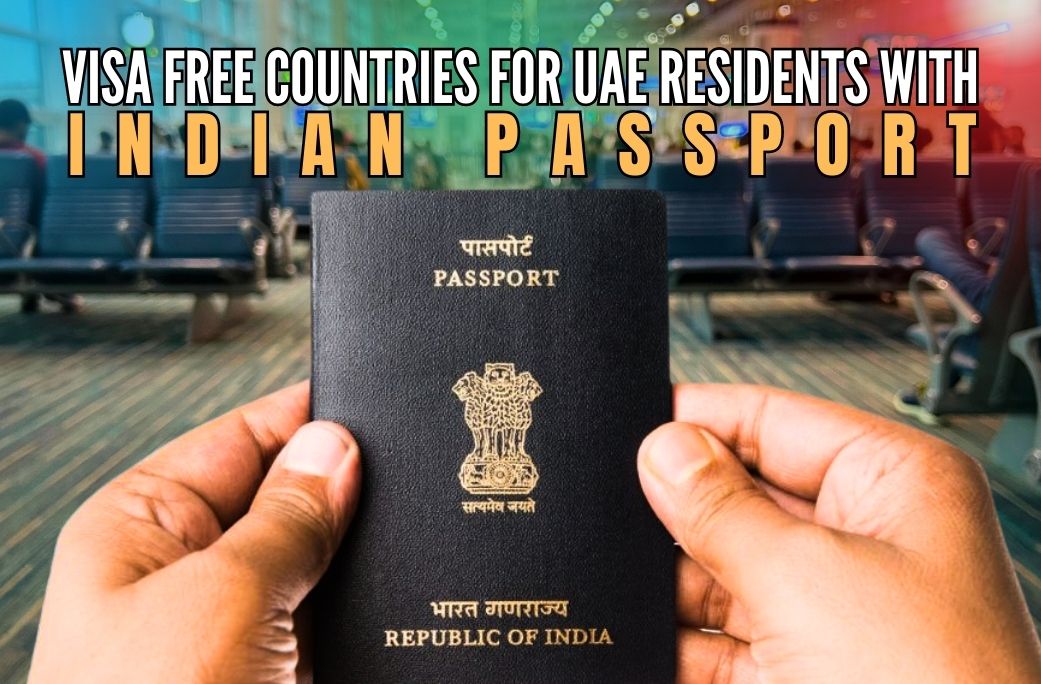 | Rank | Country |
| --- | --- |
| 1 | Serbia |
| 2 | Bhutan |
| 3 | Dominica |
| 4 | Ecuador |
| 5 | Fiji |
| 6 | Indonesia |
| 7 | Jamaica |
| 8 | Macao |
| 9 | Macedonia |
| 10 | Mauritius |
| 11 | Micronesia |
| 12 | Nepal |
| 13 | St. Vincent and the Grenadines |
| 14 | Vanuatu |
| 15 | Tunisia |
| 16 | Cook Islands |
| 17 | Lesotho |
| 18 | Malaysia |
| 19 | Madagascar |
| 20 | Maldives |
| 21 | Mauritania |
| 22 | Seychelles |
| 23 | Togo |
| 24 | Uganda |
| 25 | Vietnam |
| 26 | Rwanda |
| 27 | Somalia |
| 28 | Mozambique |
| 29 | Myanmar |
Visa-Free Countries for UAE Residents with Pakistani Passport: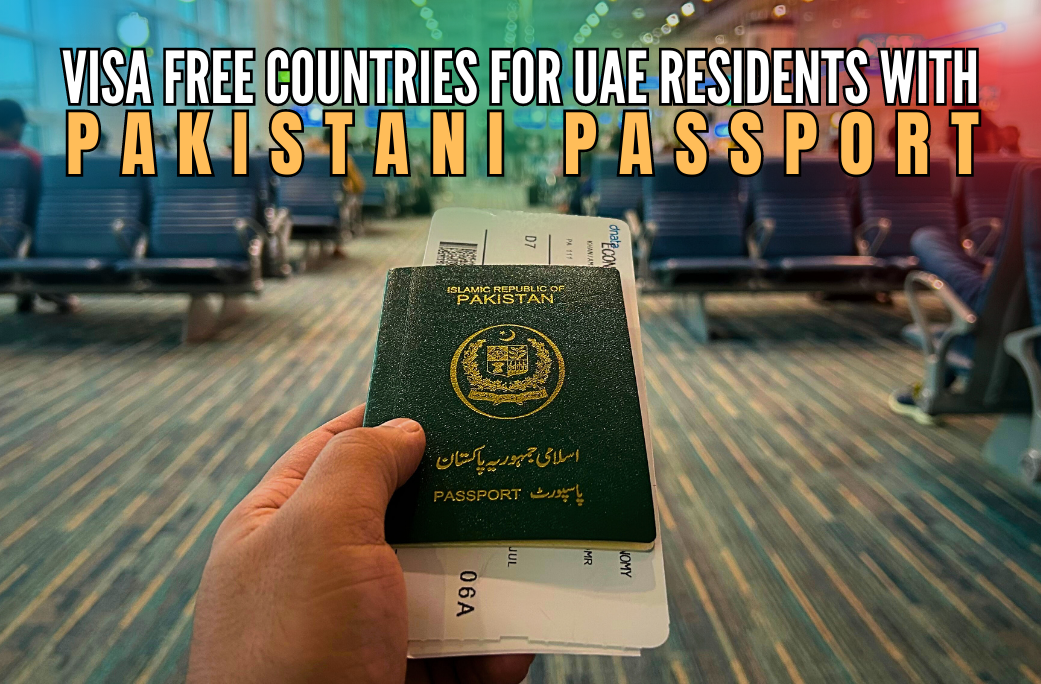 | Rank | Country |
| --- | --- |
| 1 | Dominica |
| 2 | Haiti |
| 3 | Micronesia |
| 4 | Vanuatu |
| 5 | Nepal |
| 6 | Palau |
| 7 | Samoa |
| 8 | Azerbaijan |
| 9 | Bolivia |
| 10 | Cambodia |
| 11 | Cape Verde |
| 12 | Comoros |
| 13 | Côte d'Ivoire (Ivory Coast) |
| 14 | Gabon |
| 15 | Guinea-Bissau |
| 16 | Kenya |
| 17 | Lesotho |
| 18 | Malaysia |
| 19 | Madagascar |
| 20 | Maldives |
| 21 | Mauritania |
| 22 | Seychelles |
| 23 | Togo |
| 24 | Uganda |
| 25 | Vietnam |
| 26 | Rwanda |
| 27 | Somalia |
| 28 | Mozambique |
| 29 | Myanmar |
Please be aware that visa requirements and regulations can change at any time; to stay safe it's wise to double-check all information before making travel plans.
Conclusion:
Traveling can provide invaluable lessons and experiences that broaden our world view. From living amongst a different culture or community in Dubai to immersing ourselves in their traditions and lifestyle, travelling teaches us invaluable lessons that enrich life experience.
These countries are popular tourist spots.
As a resident or citizen of the UAE, you are already reaping many advantages that allow you to explore this incredible world. 20 beautiful destinations or visa-free countries await UAE residents in 2023 for exploring.
Your options for travel within the UAE also include exploring visa-free countries or different regions within its borders.