Abu Dhabi Central Bus Station Abu Dhabi Central Bus Station is the main bus station in Abu Dhabi, open all day and night. It is also an important hub
Abu Dhabi Central Bus Station
Abu Dhabi Central Bus Station is the main bus station in Abu Dhabi, open all day and night. It is also an important hub for local buses as well buses that go to other Emirates. The well-known green building, called Abu Dhabi Main Bus Terminal, is one of the city's most famous landmarks.
Abu Dhabi Central Bus Station
Architect Georgi Kolarov of Technoexportstroy designed and completed it in 1989. The structure of the present tells the story of the Soviet era of Eastern Europe. He was a skilled architect employed by the Bulgarian government's construction company.
Bus Services
The bus terminal provides public transportation services to two of the bus stop within the Emirates:
The bus services that connect to different Emirates include two services to Dubai:
E100 – Abu Dhabi Central Bus Station to Dubai Al Ghubaiba Bus Station
E101 – Abu Dhabi Central Bus Station to Dubai Ibn Battuta Bus Station
Dubai Roads and Transport Authority (RTA) runs and manages this bus route. It is the most affordable bus service that runs between Abu Dhabi and Dubai.
Facilities At Abu Dhabi Bus Station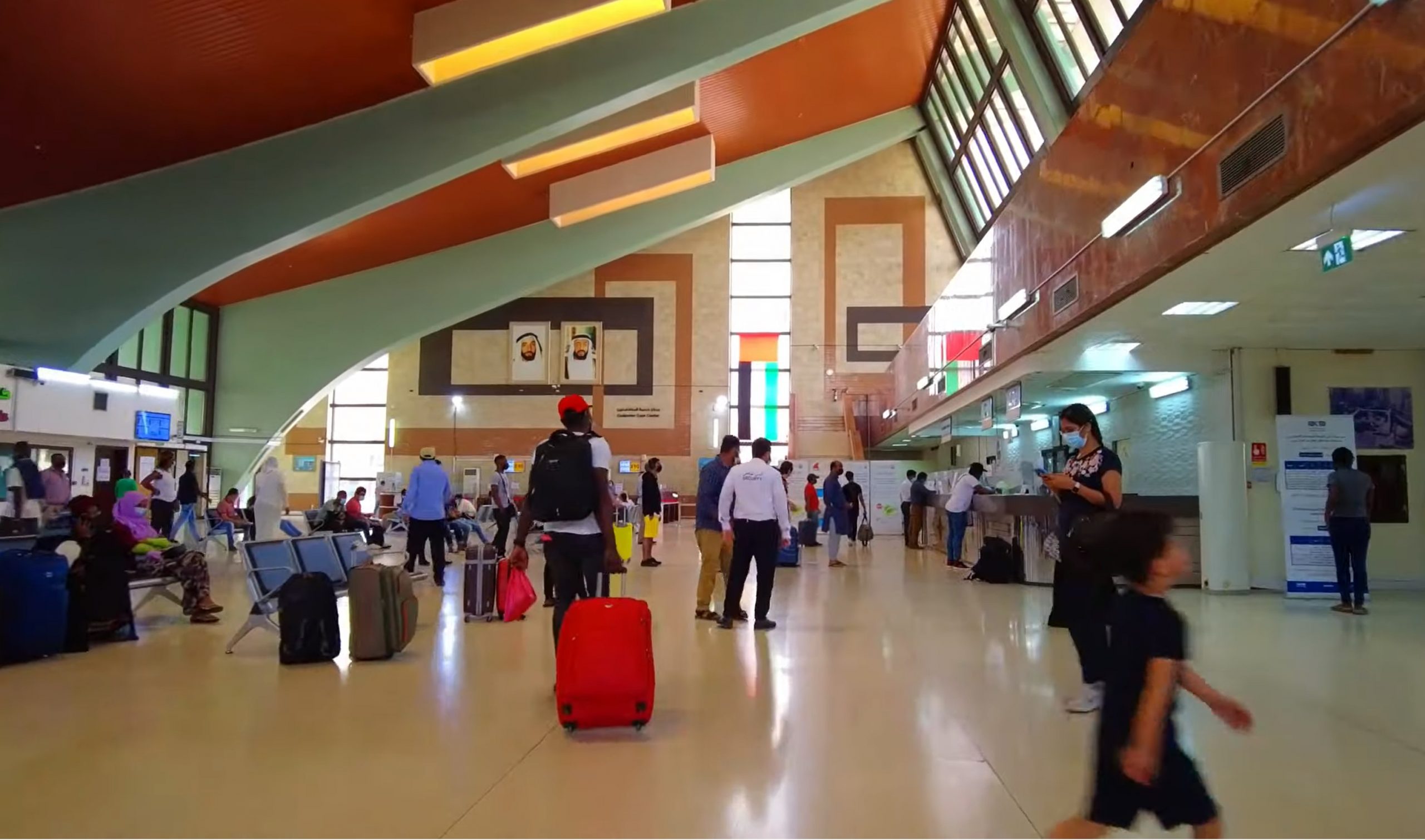 Abu Dhabi Bus Station has everything passengers need for a comfortable journey.
Ticket Counter:
The bus station has multiple ticket counters. Passengers can buy Abu Dhabi Bus Hafilat cards and tickets for their desired routes. It also has a large
Waiting Area:
The area where passengers wait has a large space to relax and unwind with no worry. The screen shows important details about schedules and departures. with seating and air conditioning.
Additionally, there are vending machines and small stores where passengers can purchase snacks and drinks. The station also provides accessible restrooms for passengers to use.
Parking:
It is possible to park in a vast parking area available for people who travel to the bus stop.
Lost and Found:
The lost and found bureau where visitors can report items lost and look for lost items.
Information Desk:
The bus station has an information desk for passengers. They can get assistance with finding their bus and learn more about their trip. The staff member answers any customer questions.
They have employed a skilled and pleasant staff to assist guests. The ticket counter staff receive training to assist with customer service and they are friendly. They are ready to help with any questions.
Storage for Luggage:
There are lockers accessible to passengers who wish to store their baggage.
ATMs and Currency Exchange:
There are ATMs and currency exchange services within the bus station.
Metro Station Near Me in Dubai, Metro Map
Neat and cleaned cafes, toilets, or prayer areas. There are several ATMs at banks. There's a bike park and a taxi stop outside the gate for passengers to easily reach their desired destination.
Students can get a pass for the whole year that lets them travel all year round. They also get a 50% discount on all trips in the city. 50% discount offer is also available for senior citizens over 55 for city excursions.
Abu Dhabi Central Bus Station Location
Address: Rashid Bin Saeed Al Maktoum St(2nd St), Al Wahdah, Zone 1, Abu Dhabi
The bus station in Abu Dhabi is located in the city center on Sultan Bin Zayed The First Street. Abu Dhabi has two bus routes.
The first one is E100, which goes from Abu Dhabi Bus Station to Al Ghubaiba Bus Station. The second one is E101, which goes from Abu Dhabi Bus Station to Ibn Battuta Bus Station. Conveniently, this location is near Al Wahda Mall and Al Nahyan Stadium.
Al Wahda Mall is a big shopping mall in Abu Dhabi.It houses more than 300 shops, including a hypermarket. There is a hypermarket too. The mall also has a cinema as well as a great range of fast-food restaurants and outlets.
Abu Dhabi to Dubai BUS Service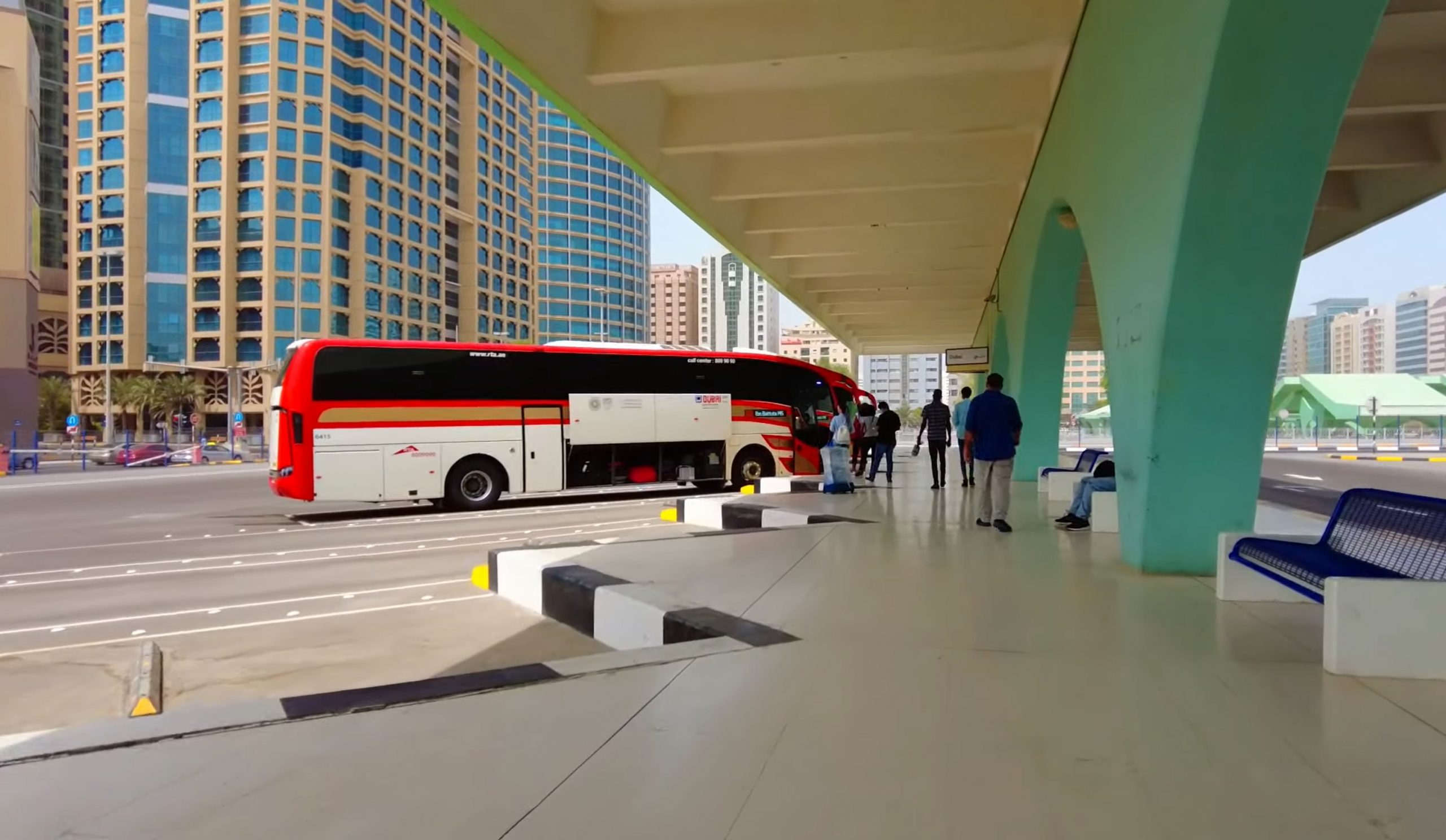 BUS E100
goes from Abu Dhabi Central Bus Station to Al Ghubaiba bus station (Last Station). Anyone who wants to travel to Al Ghubaiba or any destination in the vicinity can catch this bus.
Officials keep old buses in good condition. This is the best option for travelers who want to get into the capital. The price for tickets for the ticket is AED 25, (single one side).
BUS E101
The people who reside in the central region in Abu Dhabi can select this bus. It operates seven every day of the week. It is not on on Saturdays.
The bus leaves from the Central Bus Station and stops at Ibn Battuta (Last Station).
Residents of Mussafah used to go from Central Abu Dhabi to complete this journey. Since the introduction of E102, the authorities will control the crowd on the E101 Bus route from Abu Dhabi to Dubai. The price for tickets for the trip is AED 25, (single part).
BUS E102
They recently added the E102 Bus to the list of buses running in the region of Dubai up to Abu Dhabi. The bus connects the city of the Ibn Battuta with Mussafah.
People in Mussafah's remote areas are lucky to have this new bus. Residents don't need to go to Abu Dhabi central bus station for a bus ticket to Dubai. The price for tickets for the trip is AED 25, (single face).
Map
Map of Abu Dhabi Central Bus Station location.
Click below to view a full map with all places of interest.
Details
Abu Dhabi Central Bus Station