Individual & Traffic Fine Inquiry Abu Dhabi 2022: Abu Dhabi Traffic Police's electronic services facilitate online Abu Dhabi fine inquiry regardin
Individual & Traffic Fine Inquiry Abu Dhabi 2022: Abu Dhabi Traffic Police's electronic services facilitate online Abu Dhabi fine inquiry regarding traffic fines, special plates, payment receipts, and the content of traffic fines in Abu Dhabi. Online services are available to registered users who have a valid Emirates ID card and an active traffic file in the federal traffic and licensing system.
Registered users must first log in with their credentials and check the Abu Dhabi traffic fines for payments and receipts. Abu Dhabi Police GHQ operates an e-services portal to facilitate online communication with public users.
The online portal also enables services related to traffic departments such as vehicle registration, certification, and accident enforcement.
Steps For Individual & Traffic Fine Inquiry Abu Dhabi.
Step 1: Visit The Abu Dhabi Police GHQ Official Website

The official website can be opened on a computer, mobile device or laptop with internet connection. Use the latest version of any popular browser to open the website faster. After that, you need to open the e-services portal at the following link.
Step 2: Open the Abu Dhabi Traffic Fine Inquiry Page.

The Abu Dhabi Police homepage appears with a logo and menu on the screen.
Move the cursor to the 'Public Services' item on the main menu below the logo.
A list of inquiries for traffic, vehicles and payments hangs.
Next, click the 'Traffic Fine Inquiry' link in the second row.
Step 3: Fill Out The Abu Dhabi Fine Inquiry Form.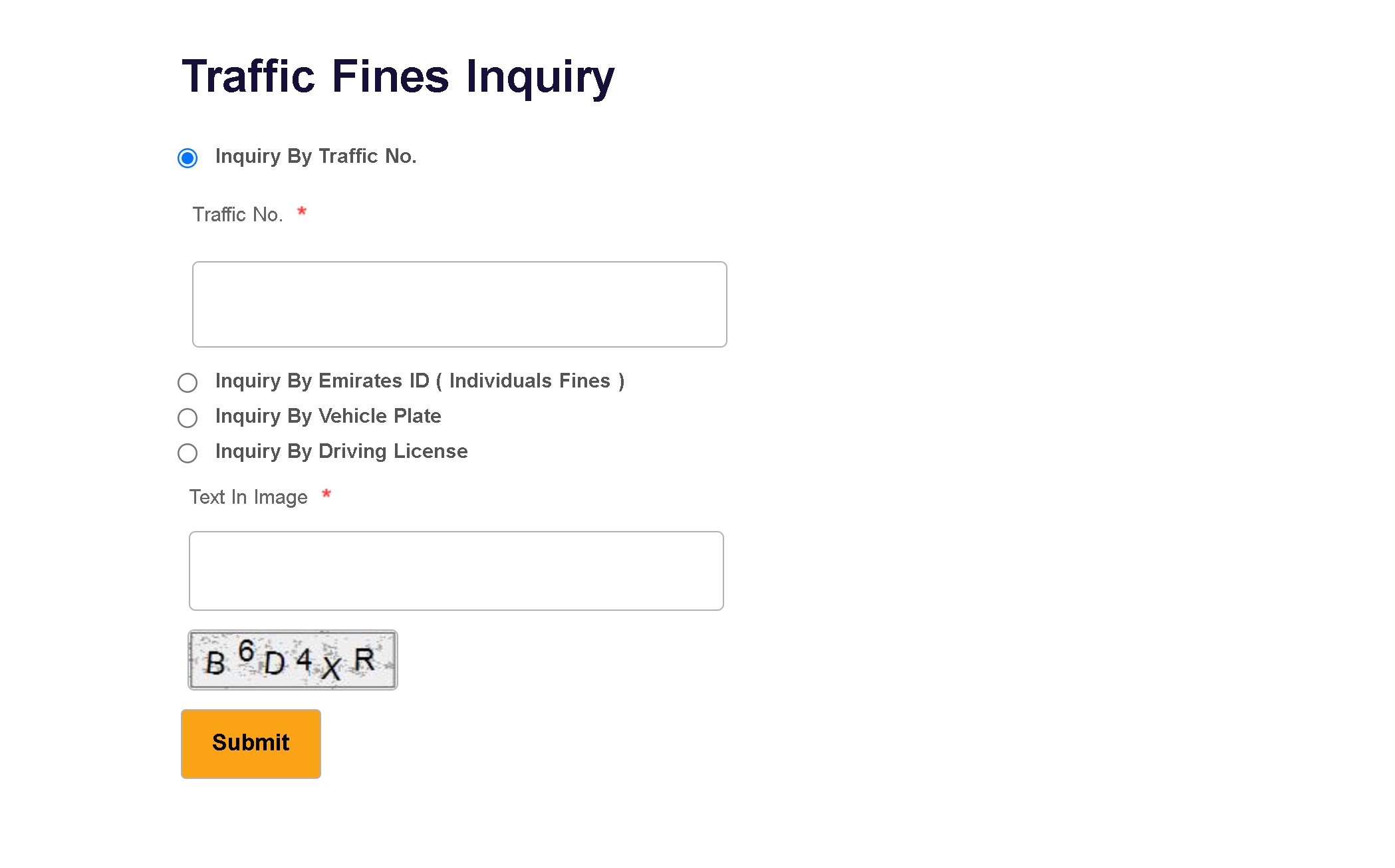 The inquiry form for the investigation of Abu Dhabi traffic fines is shown with a caption.
The default option is to query through the traffic symbol, and you can fill in the correct value.
You can also ask for traffic fines by filling in the plate data or license information.
Fill in the data correctly and select the options correctly from the drop down menu.
Check all input details for accuracy and correct any errors.
Step 4: Submit The Abu Dhabi Fine Inquiry form.
Fill in the required verification code at the end of the inquiry form.
Now, need to click the 'Submit' button from bottom of the page.
Step 5: Check Violations and Penalties Amount
On the next page, full details of traffic violations and fines are displayed for your benefit.
Check and verify the type of violation in local currency and the exact amount of the fee. The amount of the fine is expressed in local currency of UAE dirhams, AED or Dhs.
Step 6: Pay the fine Click on the 'Pay Traffic Fine' link
In the Most Used Services section on the right side of the page.
You can Log in with UAE Smart Pass app or you can register as a new user and get credentials by using your UAE mobile phone number. Pay the fine stated in the Abu Dhabi Traffic Fine Check.
Also Read This: Emirates ID Fine Check, How To Check Emirates ID Fines 
Also Read This: How to Check Overstay Fine in UAE 2022 UAE Visa Fine Check
Q & A About Fine Inquiry Abu Dhabi
How many types of online services does Abu Dhabi Traffic Police provide
Ans. Abu Dhabi's official e-services portal offers a wide range of online services, including public and member services related to vehicles, drivers, traffic profiles and traffic fines.
Traffic violations are a crime and violators will have to pay fines according to the new traffic rules.
Can I pay traffic fines offline in Abu Dhabi? The e-services portal makes it easy for violators to access online and complete Abu Dhabi traffic fines investigation and payment procedures?
Ans. In Abu Dhabi, the law is strictly enforced in the wider interest of both drivers and road users, and offenders are blackmailed based on the type and severity of the violation.
How much do I have to pay for a traffic violation? Penalties range from 2,000 dirhams to 100 dirhams, such as dangerous driving (racing), driving without a number plate, jumping a red light, broken signal lights, annoying use of a horn, etc?
Ans. However, serious violations, such as deaths, accidents, injuries, and driving under the influence, are dealt with in a court of law.
Is there an official mobile app available in Abu Dhabi to pay traffic fines?
Ans. Yes, you can pay your traffic penalty using both android app and iOS.